BBC iPlayer scores biggest month of programme requests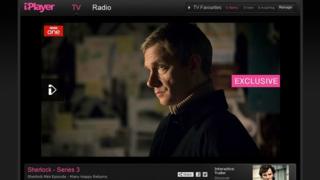 The BBC's iPlayer service has recorded its biggest month to date after receiving 315 million TV and radio programme requests in January.
It is the first time the catch-up service has past the 300 million barrier and is a 16% increase on March 2013's record 272 million requests.
January also saw a record average of 10.2 million daily requests, up from 9.3 million in February 2013.
The latest series of BBC drama series Sherlock helped boost figures.
The first episode, which explained how Benedict Cumberbatch's detective contrived to fake his apparent death, prompted 3.6 million requests.
That and the other two instalments of the detective drama were the most requested TV episodes of the month.
Returning series The Voice UK and Waterloo Road also performed well, as did new dramas The Musketeers and The 7.39.
In radio, comedy panel show The Unbelievable Truth and 5 Live's Premier League football coverage were popular, along with coverage of the Australian Open and satirical programme The Now Show.
It is thought new devices in homes after Christmas helped contribute to the overall increase in programme requests.
Mobiles and tablets accounted for 40% of requests - 127 million overall, and another record high.
Figures are recorded from programme requests via the iPlayer through any BBC website but do not include requests via Virgin Media and Sky.