Lego Movie builds US box office lead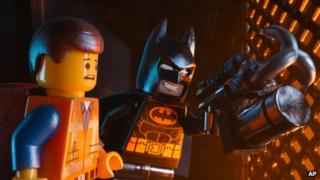 The Lego Movie has cemented its place at the top of the US box office, taking $48.8m (£29m) in its second weekend of release.
The animation, based on the famous toy brick brand, stars Chris Pratt as an everyday Lego figure who has to save the universe.
"It's crossing over to all audiences," said Paul Dergarabedian, analyst for box office company Rentrak.
The movie was followed in the charts by two 1980s remakes.
Debuting at number two was About Last Night, an updated version of the Rob Lowe and Demi Moore romantic comedy.
It took $27m (£16m) in its opening weekend, putting it well ahead of the Robocop re-boot, starring Joel Kinnaman, Gary Oldman and Michael Keaton, which entered the chart in third place, with $21.5m (£12.8m).
About Last Night's star, comedian Kevin Hart, has another film in the rundown - buddy cop comedy Ride Along, which took $8.8 million (£4m) in its fifth weekend on the box office chart.
A former number one, it now claims sixth position.
Plastic Simpsons
Two other new releases, coming-of-age drama Endless Love and an adaptation of the novel Winter's Tale, starring Colin Farrell, took fifth and seventh spot respectively.
Endless Love took $13.4 million (£7.9m), while Winter's Tale took $7.8 million (£4.6m).
Meanwhile, producers behind The Simpsons have announced they are teaming up with Lego for an episode made out of the plastic bricks.
Titled Brick Like Me, the episode will see Homer Simpson wake up in a Springfield entirely made out of Lego - he has to find a way to get out before he is stuck in the plastic world forever.
The Simpsons is the longest-running animated series in US TV history - the Lego episode will mark its 550th show.