The UK artists making the leap into film direction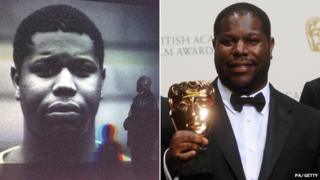 Turner prize winner Steve McQueen could pick up the biggest prize in the film world at the Oscars on Sunday.
His third film, 12 Years A Slave, has been a big success this awards season - but he is not the only Young British Artist turned film-maker.
Another is in the final stages of shooting what may well be the most talked about movie of 2015. Sam Taylor-Johnson (previously known as Sam Taylor-Wood) is adapting EL James' best-seller Fifty Shades of Grey, expected in cinemas 12 months from now.
At this year's Sundance festival, one of the best critical receptions was for a full-length film of a fictional day in the life of Nick Cave, 20,000 Days On Earth, co-directed by artists and ex-Goldsmiths College students Iain Forsyth and Jane Pollard.
"The trend is there and is certainly substantial," says Nick James, editor of film magazine Sight and Sound.
"Producers have had to go searching for fresh visions and they have looked to artists who are interested in moving image."
James believes artists bring a different approach behind the camera. "There are shots in 12 Years A Slave that Steven Spielberg would never hold for that long and that comes from a particular visual sensibility."
"Lots of artists are now making long films, and a lot of them are brilliant," enthuses Ralph Rugoff, Director of the Hayward Gallery, which has exhibited shows by Taylor-Wood and McQueen, as well as 1996 Turner Prize winner Douglas Gordon.
In 2006, Gordon co-directed with fellow artist Philippe Parreno the full-length documentary Zidane, starring the French World Cup winner and David Beckham.
He was the first video artist to win the Turner Prize. Three years later, his friend McQueen won for an installation based around a Buster Keaton film.
He has fond memories of McQueen. "Steve turned up when I won in full Highland outfit," recalls Gordon. "No-one was more surprised than I was."
Gordon's recent collaboration with actor James Franco on a re-versioning of Psycho at London's Pace Gallery was based, in part, on his own Turner Prize-winning installation 24 Hour Psycho. It bolstered his belief that there is a growing respect in the film community for contemporary artists.
"There's a wee bit of a gap that has closed down. I remember seeing Billy Wilder being led around this exhibition of conceptual film. He was being really dismissive and saying 'A 12-year-old could do that.' You wouldn't get that attitude from George Clooney, Brad Pitt or James Franco.
"Cate Blanchett was in my [Berlin] studio a few weeks ago and you don't have to start at the beginning with these people. I don't know if, say, John Wayne or Katherine Hepburn would have been particularly OK walking round the studio."
Gordon currently has two long-form film projects. One is based on Don DeLillo's novel Point Omega, another is the remarkable life story of legendary Lithuanian film-maker Jonas Mekas, 91, who escaped imprisonment in labour camps during World War Two.
"Some producers realise that artists are quite patient," he reasons. "[Zinedine] Zidane and Jonas Mekas realised I wanted to do a different type of feature.
"I like to think they based their decision to work with me purely on my charm and wit, but they probably looked at my work too."
McQueen's success with 12 Years A Slave is due in part to another movie star, who serves as one of its producers and co-stars.
The artist's Turner Prize win brought him to the attention of Channel 4, who contributed some of the £1.5 million required to make his first picture, the Bafta-winning Hunger. Admirers of that film included Brad Pitt, whose production company stepped up to help finance 12 Years a Slave.
Sam Taylor-Johnson's work was equally admired by many big stars before her 2009 debut feature Nowhere Boy, starring her now-husband Aaron Johnson as John Lennon.
Sir Elton John personally asked Taylor-Johnson to direct the video for his song I Want Love, which starred Robert Downey Jr.
The last two Turner Prize winners worked in video installation and 2013 winner Laure Prouvost can see why artists are becoming successful film directors.
"The film industry has locked itself into quite a straight narrative," she tells the BBC, "and it can be predictable. So artists might come at things from a different angle. They might come with an image."
Advances in technology are also helping conceptual artists realise visions on the big screen.
"Now moving images are something you see in art galleries as well as cinemas," says Rugoff. "We watch moving images in so many different ways, even on our mobile phones.
"So many artists are exploring the possibility of multi-screen storytelling. Part of that is because people are looking at three things at once, their laptop, their TV and their phone and so I hope that's the next step. Longer versions of Vines may happen."
McQueen and Taylor-Johnson breaking through into mainstream Hollywood are still seen by many as exceptions to the rule.
"Film-making is a special skill," says Rugoff, "and what Steve McQueen and Julian Schnabel have done is display different skills - like a boxer suddenly taking up football."
Laure Prouvost sounds another note of caution, about the film world's infamous politics.
"I can see why artists are attracted to working on that scale but it's extremely hard to achieve something in the film industry. You have to articulate your voice quite differently from how an artist might work. There is more interference."
Ralph Rugoff still sees the main direction of travel for artists being not to film, but music.
"Artists seem to have better luck going into rock'n'roll - look at [former art school students] Blur, Bowie, Franz Ferdinand, Roxy Music...it's a pretty extensive list."