12 Years a Slave leads UK box office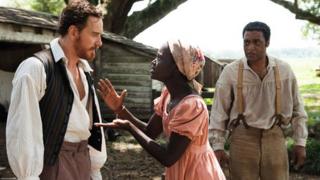 12 Years a Slave has opened at the top of the UK box office, knocking fellow Oscar hopeful American Hustle into second place.
Steve McQueen's slavery drama stars Chiwetel Ejiofor as a man kidnapped and forced to work for a brutal slave master, played by Michael Fassbender.
The film took £2.51 million over the weekend while American Hustle, starring Christian Bale, Amy Adams and Jennifer Lawrence took £1.94 million.
The new Hobbit film was in third place.
The Desolation of Smaug, the second part of The Hobbit trilogy, took £1.5 million at the UK and Ireland box office in its fifth week of release.
Disney's latest hit animation Frozen was in fourth, taking £1.31 million.
Comedy Last Vegas - which stars Michael Douglas, Robert De Niro Morgan Freeman and Kevin Kline and has been dubbed "The Hangover for pensioners" by critics - completed the top five with £1.29 million.
Critics and cinema goers have described 12 Years a Slave as "an emotional rollercoaster", with a "brutal" depiction of what slaves were forced to endure.
The film is nominated for 10 Baftas and is hotly tipped to pick up several Oscar nominations when they are announced on Thursday.
It was named best film drama at Sunday night's Golden Globes, where David O Russell's American Hustle, also starring Bradley Cooper and Jeremy Renner, picked up three awards.
It won best film in the comedy or musical category, while Adams and Lawrence were named best actress and best supporting actress respectively.
Admissions down
Two other films made their UK box office debut in the top ten at the weekend; The Railway Man, starring Colin Firth and Nicole Kidman was in sixth place with £1.23 million, and The Delivery Man, starring Vince Vaughn, was in seventh with £1.1 million.
New figures show UK cinema admissions dropped by 4% during 2013, with the year's final tally of 165.5 million people the lowest since 2008.
The tally is down from 2012's figure of 172.5 million according to figures released by the Cinema Advertising Association.
However it is thought Skyfall's record breaking run, which boosted admissions in October and November 2012, accounts for much of the difference.
Films such as Frozen and The Hobbit: The Desolation of Smaug ensured a strong end to 2013, although August was the most popular month for cinema-goers with 17.6 million admissions.
It is hoped the box office will rebound this year, with high-profile films such as Captain America: The Winter Soldier, The Amazing Spider-Man 2, X-Men: Days of Future Past and Guardians of the Galaxy due over the summer.
It should also be another strong end to the year, with the next films in both The Hunger Games and The Hobbit franchises due, along with the release of comedy sequel Dumb and Dumber To.