Tina Fey and Amy Poehler: Dream Golden Globes double act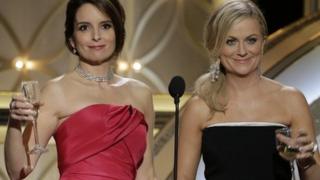 For many of their 71 years, the Golden Globes have been mostly thought of as not too much more than a big party and a kind of vague pointer to the Oscars, where the real business is.
But with Tina Fey and Amy Poehler presenting, the Hollywood Foreign Press Association's awards are rapidly becoming a piece of genuine television entertainment in their own right.
Indeed, such was the quality of the wit of the two hosts, the ceremony should be nominated for some sort of writing gong itself next year.
Fey and Poehler, who have a long-standing friendship and have worked together for years on Saturday Night Live, were dazzling on a night when, curiously, many of the other stars seemed to be suffering a collective bout of stage fright.
Maybe they knew that whatever they said, it was going to face a fierce struggle to match the quality of Fey and Poehler's lines.
The opening dialogue was illustrative, crammed with great one-liners. Fey was straight off with: "Good evening to everyone in the audience and to all the women and gay men watching at home.
"We're going to get this done in three hours - or as Martin Scorsese calls it, Act One," she continued.
Poehler followed up with a comment on Netflix's hugely successful year: "Enjoy it while it lasts Netflix, because you're not going to feel so smug in a couple of years when Snapchat is up here accepting best drama."
Then a genuine showstopper of a line from Fey - that Gravity was "the story of how George Clooney would rather float away into space and die than spend one more minute with a woman his own age."
The audience, especially Clooney's co-star Sandra Bullock, was in hysterics. Showbiz journalist Boyd Hilton tweeted it was the funniest monologue joke he'd ever heard.
The crackers kept coming. Introducing the star of The Wolf of Wall Street, Fey urged: "Like a supermodel's vagina, let's all give a warm welcome to Leonardo DiCaprio."
It was a line typical of the style of humour the pair deploy so well - funny but not fawning, clever but not caustic.
In contrast, there were comparatively few good lines from the rest of Hollywood's stars.
Jim Carrey was the exception, getting a good laugh with: "Dying is easy, comedy is hard. I believe it was Shia LaBeouf who said that."
The Golden Globes are generally a much more relaxed affair than the Oscars. But Jennifer Lawrence, Amy Adams and even veteran Jon Voight struggled to contain their emotions, all admitting to feeling strangely nervous as they picked up awards.
As the evening wore on things got considerably more relaxed, however - signified by Emma Thompson arriving with her shoes in one hand and a martini glass in the other to present the award for best screenplay.
Cate Blanchett, collecting the award for best actress, admitted during the night she had been plied with vodka "in the same way Judy Garland was plied with barbiturates".
Anyone playing along at home to the drinking game the hosts invented would by this point know exactly how she felt - especially if, as the rules insist, they had to drink each time someone claimed they hadn't prepared anything.
Ironically, among them was Poehler herself, who was in the middle of having her shoulders rubbed by Bono when she was awarded best actress in a TV comedy for Parks and Recreation.
"Congratulations again," Fey responded. "There's a special place in hell for you."
Fey and Poehler are already booked for the 2015 Golden Globes - something they acknowledged at the start.
"This is Hollywood," they deadpanned. "And if something kind of works, they'll just keep doing it until everybody hates it."
If they maintain this level of quality, it will be quite some time before that happens.