Steve McQueen to work on BBC drama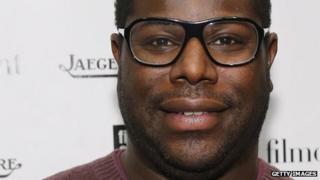 12 Years a Slave director Steve McQueen is working on a drama about the lives of black Britons for the BBC.
The 44-year-old told The Daily Mail the drama would be "epic in scope" and follow the lives of a group of friends and their families from 1968 to 2014.
"I don't think there has been a serious drama series in Britain with black people from all walks of life as the main protagonists," McQueen said.
The director is expected to pick up an Oscar nomination next week.
He was nominated for a best director Bafta earlier this week, adding to his growing collection of nods for his work on 12 Years a Slave.
McQueen said his BBC project, which is still in its early stages, would be developed over the next year with a writer and group of actors.
He said it would be set in London, adding: "This isn't a black Our Friends in the North", referencing the 1996 BBC drama which followed four friends from Newcastle.
The BBC confirmed it was teaming up with McQueen and Rainmark Films on the project, but would not give any further information.
"It is too early to announce the details, but it is incredibly exciting to be working with the hugely talented British director who has rapidly become one of the finest directors in the world," BBC drama controller Ben Stephenson said.
McQueen, who was born in London but now lives in Amsterdam, first found fame as a video artist, winning the Turner Prize in 1999.
His mainstream movie career began with 2008's Hunger about the Northern Irish hunger strikers, followed by 2011 sex addiction film Shame - both starring Michael Fassbender.