American Hustle tops UK film chart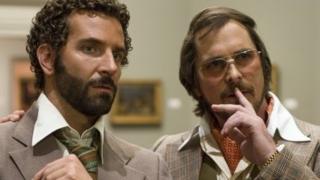 Crime drama American Hustle has topped the UK and Ireland box office chart in its first weekend of wide release.
The film, starring Oscar winners Christian Bale and Jennifer Lawrence, took £3.5m including two days of previews.
It had played in one London cinema for the previous two weeks, where it made £164,450.
The movie has been nominated for 10 Baftas, including best film and all four acting categories.
The Hobbit: The Desolation of Smaug held strong at number two with £3.2m in its fourth week of release.
Disney animation Frozen was at three with £2.9m, with new entries from comedy Last Vegas and horror Paranormal Activity: The Marked Ones at four and five respectively.
Mandela: Long Walk To Freedom was the only other new entry in the top 10 at seven.
Meanwhile, figures show animated film Despicable Me 2 was the highest-grossing film at the UK box office in 2013.
The sequel, featuring the voices of Steve Carell and Kristen Wiig, took £47.4m following its June release.
Oscar-winning Les Miserables was in second spot, taking £40.7m across the whole year after a January release.
Although it topped global box offices last year with $1.2bn (£734m) in takings, Iron Man 3 only managed number three in the UK with £36.9m after its April release.
The Hobbit: The Desolation of Smaug landed in fourth place, making £34.1m from just three weeks of takings.
The Hunger Games: Catching Fire, released in November, was fifth with £32.5m.
Figures from box office tracker Rentrak show the total UK box office revenue for 2013 was £1.17bn - down 1% on the previous year.
It is the biggest fall since the company began tracking returns in 1991.
Rentrak's Lucy Jones said takings were down because James Bond film Skyfall had performed so well last year.
"2012 was particularly strong, with three films grossing over £50m - none achieved this milestone in 2013," she said.
"We also had the biggest film of all time last year, Skyfall, grossing over £100m. Something like Skyfall is a phenomenon because it makes people go to the cinema.
"In 2013, we had really successful family films and action films, but we didn't have one that captured that audience who don't normally go."