Baftas 2014: Reaction to nominations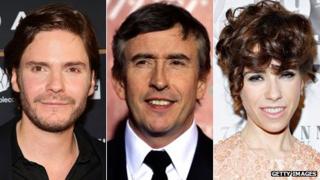 A host of established stars, household names and celebrated film-makers are in the running for this year's Bafta Film Awards.
They include Dame Judi Dench, whose 15th nomination - for adoption-themed drama Philomena - sees the actress set a new Bafta record. "That shows how old I am!" said the 79-year-old on hearing the news.
Here some of the nominees give their reaction to being shortlisted for honours, with additional comment from some of the publicly-funded bodies behind this year's nominated films.
Daniel Bruhl
Thank you Bafta. This is an incredible privilege and I am so very grateful.
Bruhl is nominated for best supporting actor for his role in Rush.
Steve Coogan
Philomena has been a labour of love. To make a film with the very best people, where comedy and pathos sit side by side is not easy.
We all wanted to make something sincere and uncynical without being naive. To have it acknowledged by Bafta is very satisfying.
Coogan is nominated alongside Jeff Pope in the best adapted screenplay category and as one of Philomena's producers in the best film and outstanding British film categories.
Dame Judi Dench
I'm very proud to be associated with this film and I thank Bafta voters for the nomination. I'm honoured and thrilled to be in such fine company.
Dame Judi is nominated for best actress for her role in Philomena.
Leonardo DiCaprio
I am truly honoured to be nominated today by the British Academy of Film and Television Arts. These nominations reflect the determination of an extraordinary cast, crew and of course the great Marty Scorsese.
DiCaprio is nominated for best actor for his role in The Wolf of Wall Street.
Chiwetel Ejiofor
It's just been an extraordinary time. This was an amazing and incredible film to work on and a really extraordinary director to work with, on a subject and a topic and a book that the screenplay was based on, that was just truly phenomenal.
It's been amazing to receive this kind of attention for it - it's been an extraordinary journey.
It's so much a film about human respect and human dignity and it's so powerful and relevant. It's never too early or too late to discuss these kind of topics.
It's been one of the greatest experiences I've had as an actor and as a person, so I can't tell you how excited I am and to be received this way by Bafta is a really phenomenal moment.
Ejiofor is nominated for best actor for his role in 12 Years a Slave.
Tom Hanks
It's an honour to be included with the other extraordinary actors and I am very happy for all of us who worked so hard on Captain Phillips.
Hanks is nominated for best actor for his role in Captain Phillips.
Sally Hawkins
Thank you for this nomination dear Bafta. I feel overcome with emotion and struggle to find the words. My heart is bursting with gratitude.
Every single one of the nominees is a beautiful artist who I greatly admire and to be considered alongside them all is incredibly humbling.
I feel very lucky to be asked to join the party! Thank you again Bafta with all my heart!
Hawkins is nominated for best supporting actress for her role in Blue Jasmine.
Christine Langan, Head of BBC Films
The spread of Bafta nominations from outstanding debuts to recognition for stars like Judi Dench and Emma Thompson demonstrates the breadth and depth of talent working in the UK today.
We're thrilled to have 11 nominations and look forward to a brilliant night for British film on [the] 16th.
The Bafta-nominated Philomena, Saving Mr Banks, The Invisible Woman and Good Vibrations all received funding from BBC Films.
Ben Roberts, Director of BFI Film Fund
It's really pleasing to see Bafta spotlight a wide range of British films, from the VFX genius showcased so vividly in Gravity [and] the visceral and powerful storytelling in 12 Years a Slave to the heart-wrenching humanity of films like The Selfish Giant and Philomena.
In what's been an outstanding year for British filmmaking, it's just a shame not everyone can be nominated.
The Baftas can provide a huge boost for new film talent and it's fantastic to see bold new voices like Paul Wright and Scott Graham included in the outstanding debut category. I'm proud that the BFI Film Fund has supported a number of the nominated films, both features and shorts.
It's been a privilege to work with these prodigiously talented filmmakers, and I wish them and indeed all the nominees the very best of luck for the awards.
Tessa Ross, Channel 4's controller of film and drama
With Steve McQueen's 12 Years a Slave receiving 10 nominations and so much recognition for British talent this is certainly a proud moment for British film.
Congratulations to all of our nominees, Film4 is privileged to have supported them on their journey. The very best of luck to everybody.
The Bafta-nominated 12 Years a Slave, The Selfish Giant and For Those in Peril all received funding from Channel 4.
David O Russell
Mind blowing. Humbled and beyond grateful to be recognised by Bafta in this way.
It means everything to have our actors and our craftspeople, who put their hearts into this picture, acknowledged.
Russell is nominated for best director and best original screenplay for American Hustle, which is also up for an additional eight awards.
Anant Singh
We are especially proud that Mandela: Long Walk to Freedom has received the Bafta nomination for Outstanding British Film. This is significant as it is the first South African/British co-production to receive this recognition.
This nomination also acknowledges the amazing South African and British talents in the film.
Singh is the producer of Mandela: Long Walk to Freedom.
Emma Thompson
Getting the nod from Bafta means I can hold my head high on Piccadilly. I haven't been able to say that in years…
Thompson is nominated for best actress for her role in Saving Mr Banks.