12 Years A Slave actress up for Bafta Rising Star award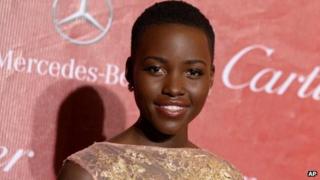 Actress Lupita Nyong'o, who is in the hotly-tipped film 12 Years A Slave, is among five young actors nominated for this year's EE Bafta Rising Star award.
She is joined by Blue is the Warmest Colour actress Lea Seydoux and Sunshine on Leith star George MacKay.
Will Poulter from We're the Millers and Narnia film The Voyage of the Dawn Treader and Kill Your Darlings actor Dane DeHaan complete the list.
The winner is revealed at the Baftas which take place on Sunday 16 February.
The Bafta Rising Star nominees were selected by a group including actress Gemma Arterton, Pippa Harris, the deputy chair of Bafta's film committee and film critic Mark Kermode.
The awards are not strictly for newcomers and can go to actors who already have a track record of several films.
Nyong'o, who said she was "absolutely delighted" to be nominated, has already won praise for her performance as young cotton picker Patsey in 12 Years a Slave, acting alongside Chiwitel Ejiofor and Michael Fassbender.
She is nominated for best supporting actress at this year's Golden Globes and was handed the breakthrough performance award at the Palm Springs International Film Festival over the weekend.
As well as acting she is also an award-winning film-maker and wrote, directed, and produced the documentary In My Genes, about the treatment of Kenya's often misunderstood albino population.
MacKay, who took the lead role in Scottish musical Sunshine on Leith last year, told the BBC on Monday that it was "exciting and humbling" to be nominated.
His film career began at the age of 10, when he played Curly in PJ Hogan's Peter Pan. "As I've got older I've started appreciating acting as a craft. I'm more open to watching and listening to others around me and not just being a kid on set," he said.
MacKay was named best actor at 2013's Bafta Scotland awards for his critically acclaimed performance in For Those in Peril, about the only survivor of a fishing accident in a remote part of Scotland.
In 2013, Mackay also appeared in Kevin Macdonald's apocalyptic tale How I Live Now. He is currently in rehearsals for a stage version of The Cement Garden, based on the novel by Ian McEwan, which will have its world premiere in London's Waterloo Tunnels later this month.
French actress Seydoux's intense performance in controversial love story Blue is the Warmest Colour saw her share the Palme d'Or at Cannes film festival with director Abdellatif Kechiche and co-star Adele Exarchopoulos.
"This was a small film and I didn't know that it was going to be that huge," she admitted on Monday. "It's nice to have cinema like that today, about real people, real emotions. There is no make-up, it is very raw."
Seydoux has starred in several other high-profile films including Quentin Tarantino's Inglourious Basterds, Ridley Scott's Robin Hood and Woody Allen's Midnight in Paris, as well as her first action role in Mission: Impossible - Ghost Protocol.
In the last few years DeHann, who starred opposite Daniel Radcliffe in Kill Your Darlings, has also featured in Steven Spielberg's Lincoln and with Ryan Gosling in The Place Beyond the Pines.
Also known for playing Jesse in HBO drama In Treatment, and featuring in camcorder superhero Chronicle in 2012, he said it was a "huge honour and humbling experience" to be featured on the list.
Later this year DeHann will play Peter Parker's old friend Harry Osbourn in The Amazing Spider-Man 2, opposite Andrew Garfield.
Poulter made his film debut as the star of quirky British comedy Son of Rambow in 2007, earning himself a nomination for most promising newcomer at that year's British Independent Film Awards.
He called it an "absolute honour to be nominated" as a rising star. He described his fellow nominees as "the sort of people who keep me on my toes and inspire me to act".
Poulter, who recently starred alongside Jennifer Aniston in We're The Millers and played the lead in Dexter Fletcher's directorial debut Wild Bill, has experience of both British independent film and bigger budget Hollywood productions.
"I've been very lucky to do a combination of both and I hope I can continue to do a few more," he told the BBC.
He said he'd heard the news about his nomination at his home in Bristol. "I called my mum and she cried, and I called my dad and he did his best not to cry."
James McAvoy was the first winner of Bafta's Rising Star award in 2006. Other previous winners include Eva Green, Shia LaBeouf, Noel Clarke, Kristen Stewart, Tom Hardy and Adam Deacon.
Last year's winner was Juno Temple, whose breakthrough role was in Notes on a Scandal (2006), alongside Cate Blanchett. Her other film appearances include Atonement (2007), dark comedy Killer Joe (2011), and The Dark Knight Rises (2012).
"It's always tough to choose five nominees from the hundreds of suggestions from our members and film industry figures, and this year has been no exception," said Pippa Harris, who chairs the Rising Star jury.
"The EE Rising Star Award acknowledges new talent but also allows the British public to be involved in the judging process, and choose their stars of the future," she added.
Voting takes place online until 14 February 2014.