Theatreland shocked by West End 'tragedy'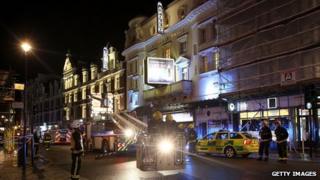 Leading lights of London's Theatreland have been "rocked and shocked" by the ceiling collapse at a West End theatre that left dozens of people injured.
Several heard the news as they left the opening night of Stephen Ward, the new musical from Andrew Lloyd Webber.
Sir Richard Eyre, the show's director and a former director of the National Theatre, said the news was "frightening and shocking and disturbing".
"It's a terrible thing to happen in a theatre," he told the BBC News website.
Musicals star Elaine Paige said the audience at the Aldwych Theatre were "rocked and shocked" to learn what had happened around a mile away.
"It was a tragic and shocking thing to hear," said the actress and broadcaster. "Clearly there's been a tragedy over there tonight."
Her sentiments were echoed by theatre producer Robert Fox, who said it was "a very shocking thing to happen and incredibly sad".
"I just hope no-one has been killed and that people will be okay," he told the BBC.
Fellow producer Bill Kenwright said he was "shocked" by the news, while choreographer and former Strictly Come Dancing judge Arlene Phillips said the news was "shocking and surreal".
In a statement on Friday morning, the Society of London Theatre (Solt) praised the emergency services and theatre staff for their "professional and compassionate" handling of the situation.
"At a meeting today all the major theatre owners have confirmed that their safety inspections and certificates are up to date, and will co-operate fully with the authorities to reassure the public that their theatres are safe. All other London theatres remain open for business today and in the coming weeks," it said.
"The exact cause of the incident is still being investigated and the theatre owners, Nimax, are working closely with the relevant authorities to establish exactly what happened.
"Our theatres entertain over 32,000 people in central London every night and all theatres take the safety of their audience, performers and staff very seriously. Every theatre undergoes rigorous safety checks and inspections by independent experts, and incidents like last night are extremely rare."
The incident took place during a performance of The Curious Incident of the Dog in the Night-Time, an adaptation of the Mark Haddon novel that was originally presented at the National Theatre.
Sir Nicholas Hytner, director of the National, was at the Aldwych to see Stephen Ward and left immediately afterwards, as did Nimax Theatres co-owner Nica Burns.
Performances of The Curious Incident of the Dog in the Night-Time have been cancelled until 4 January.
In a message on Twitter, Haddon said it had been "horrifying" watching the events unfold and that he was "hugely relieved" there had been no fatalities reported.
"I hope that those who were seriously injured are OK," he continued. "I'm sorry, too, that so many people went through such a terrifying experience."
The actor David Suchet also took to Twitter to express his dismay. "What a tragedy," he wrote. "My thoughts are with all those who are hurt and injured."
Eyewitnesses heard a "crackling" noise before the collapse at about 20:15 GMT. Theatre-goers left covered in debris and 51 people were taken to hospital.
First opened in 1901, the Apollo is a Grade II listed building that seats 775 people across four levels.
Additional reporting by BBC entertainment correspondent Tim Masters.