12 Years A Slave leads London Critics' Circle nods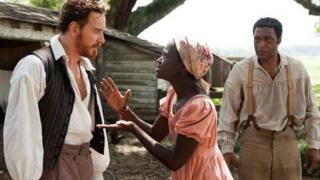 Steve McQueen's 12 Years A Slave has scooped the most nominations at the London Critics' Circle Film Awards.
It vies for nine prizes, including best actor for Chiwetel Ejiofor, and supporting role awards for Michael Fassbender and Lupita Nyong'o.
McQueen is also nominated for best director with the film itself up for film of the year.
Philomena received five nods including best acting nominations for Dame Judi Dench and Steve Coogan, and best film.
Other films to score multiple nods were Blue Jasmine, Filth, Gravity and The Wolf Of Wall Street, with four nominations each.
Gary Oldman will be awarded the organisation's highest honour - the Dilys Powell Award for excellence in film - at the London ceremony on 2 February, 2014.
"I am truly honoured, and humbled to be named for this prestigious award," said Oldman, who was nominated for an Oscar in 2012 for his performance in Tinker Tailor Soldier Spy.
"Especially when one considers both who is doing the awarding and also the inspirational list of past recipients. I can't wait to be there."
Main prizes
Ejiofor will go up against Bruce Dern for actor of the year along with Leonardo DiCaprio, Michael Douglas and Tom Hanks for Captain Phillips.
He will also compete against Coogan, Fassbender, Christian Bale and James McAvoy for the separate title of British actor of the year.
Dame Judi sees competition from Cate Blanchett, Sandra Bullock, Adele Exarchopoulos and Greta Gerwig in the race to be named actress of the year.
She is also nominated for British actress of the year against Lindsay Duncan, Naomie Harris, Sally Hawkins and Emma Thompson.
Ten films will compete with 12 Years A Slave to be named film of the year, including sci-fi thriller Gravity, Woody Allen's Blue Jasmine, comedy-drama Nebraska and Martin Scorcese's forthcoming financial drama The Wolf of Wall Street.
The other contenders are Frances Ha, Blue Is The Warmest Colour, The Great Beauty, Her and Inside Llewyn Davies.
In the British film of the year category, Philomena will go up against A Field in England, Filth, Rush and The Selfish Giant.
The full list of nominations has been published on the London Critics' Circle website.