Strictly Come Dancing to host first all-female final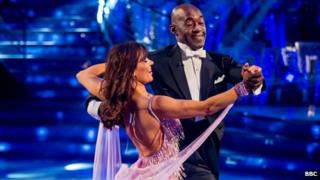 It will be the first all-female final on Strictly Come Dancing after actor Patrick Robinson was eliminated from the competition.
Coronation Street actress Natalie Gumede beat Robinson in the dance-off to join Susanna Reid, Abbey Clancy and Sophie Ellis Bextor in the final.
Casualty star Robinson, 50, said: "I've had an incredible journey."
He was the last man standing after Hollyoaks actor Ashley Taylor Dawson exited last week.
"My highlight really may be a surprise, but being in the training room was the place I had the most fun and the most hard work, so being here was just the icing on the cake."
Robinson had been in the dance-off twice before but it was Gumede's first time with all four judges choosing to put her through to the final ahead of her male rival.
Robinson said he did not think the best dancer would necessarily win the coveted glitter ball in next Saturday's final.
"On the dancing, so far as I can see, Natalie is by far the most gifted dancer among us all," he said.
"[But] the public has the vote, so it's whoever they like."
As usual, the judges will comment on the performances, but it will be down to the viewers to decide on the winner.
Clancy tweeted she was "ecstatic" to be in the final and thanked fans, saying she "wouldn't be here without all of your votes".
Reid said: "So excited to be dancing in #strictly final with Abbey, Sophie and Natalie. Beautiful dancers who have become real friends."
Ellis Bextor said she "genuinely can't quite believe it", while Gumede paid tribute to Robinson, tweeting: "Mr @peerobinson is a beautiful soul and a beautiful dancer and @AnyaGarnisLA is exquisite. A joy to share Strictly with you both."