Theatres share The Voice vote funds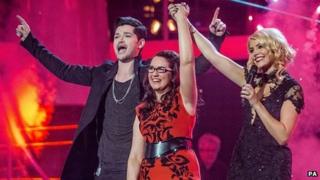 More than £430,000 raised by phone voting on BBC shows like The Voice has been awarded to 77 UK theatre projects.
The BBC Performing Arts Fund allocates money from TV voting to up-and-coming creative talent across the UK.
Most of the money raised has come from BBC One's singing talent show, The Voice.
A 10p share of every 25p vote goes to the fund, and the charity also receives proceeds from the show's song downloads.
The latest round of grants will fund 19 writers, producers and directors to work with professional theatres.
Another 58 community theatre projects, ranging from children's theatre in Bristol to a disabled arts group in Belfast, will also receive grants.
One project will see housebound actors take part in a live performance via Skype, while another show will star adults with learning disabilities performing in the Scottish Parliament.
The fund, which has been going for 10 years, has so far distributed more than £4m to musicians and dancers as well as those working in theatres.