Viewers 'misled' over grizzly bears wildlife sequence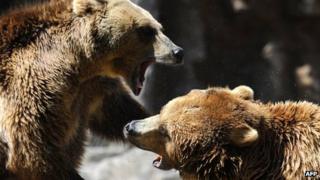 The BBC Trust has concluded that a sequence shown in a BBC One wildlife documentary was misleading to viewers.
It ruled it was wrong to imply that a grizzly bear expert was present when he commentated on the animals.
His contribution in The Great Bear Stakeout, shown on BBC One in April, had actually been filmed separately.
An earlier BBC probe found there had been "serious breaches" of editorial guidelines that should ensure accuracy and not "distort known facts".
BBC managers responded to the investigation by sending staff from the Natural History Unit on bespoke training courses and setting up regular review boards to discuss editorial concerns.
In its review of September's rulings by the Editorial Standards Committee (ESC), the Trust agreed it was "not acceptable" for the wildlife expert to be filmed separately from the events on which he was commentating.
But they accepted the staging of his reaction "had been done as a production technique to tell a narrative and to enhance the viewing experience".
The trust said the natural history sequences shown in the film were accurate, including the one in question.
This had featured footage of a mother bear leading her two cubs into the sea to catch fish and one of the cubs disappearing into the waves.
The ESC's concern was that this could "damage a world-class brand" - namely, the BBC's natural history output.
In June it was informed about the misleading footage and that editorial rules had been broken.
The footage was later re-edited and the original version removed from the BBC iPlayer.
The programme's producer, Gavin Henderson, also wrote a post in which he apologised for the misleading scene and pledged that any future repeats would not contain the bear guide's commentary.
In 2011 the BBC denied viewers had been misled by footage of polar bear cubs that had been filmed in controlled conditions in a wildlife park rather than the Arctic.
They said such filming techniques were commonplace and allowed producers to collect footage that would otherwise be hard to obtain.