McKellen and Stewart's Broadway performances praised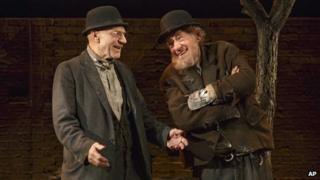 Sir Ian McKellen and Sir Patrick Stewart have received largely warm reviews for their double bill of stage works on Broadway.
The acting pair are starring together in Samuel Beckett's Waiting for Godot and Harold Pinter's No Man's Land at the Cort Theatre.
The New York Times called the plays "absurdly enjoyable revivals".
However, the Financial Times suggested the theatrical knights were "eclipsed" by their US co-stars.
Brendan Lemon, reviewing No Man's Land for the publication, said the routines between the pair "now seem so worked-out they're stiff", but conceded that "my audience seemed plenty pleased by the play".
The Hollywood Reporter's David Rooney disagreed with this assessment, saying that "both plays belong to Stewart and especially McKellen".
The New York Times' Ben Brantley said the revivals are "an irresistible celebration of two actors' love affairs with their scripts," and praised Sir Ian's "beautifully pained limp" for his role as an existential down-and-out in Waiting for Godot.
Appraising their performances in No Man's Land, he said: "I will forever cherish the memory of Mr McKellen's nimble Spooner and Mr Stewart's increasingly paralytic Hirst doing their best to one-up each other, in authoritatively delivered nonsense."
Mark Kennedy, writing a review for the Associated Press, said the double helping offers "two knights at their peerless best", adding "there can be no complaints about the service".
He called Sir Ian a "wonder" and McKellen a "marvel" for their roles in No Man's Land as hard-living men unlikely to bond - compared to Beckett's leads in Waiting for Godot who are inextricably linked to each other.
The two actors, who star in the X-Men movies, are reprising their roles in Waiting for Godot which they performed on the West End stage in 2009.
Their working relationship dates back to 1977 when they both appeared in Every Good Boy Deserves Favour by Sir Tom Stoppard.
Sir Ian made his Broadway debut in 1967, with Sir Patrick appearing on the New York stage for the first time four years later, in a production of A Midsummer Night's Dream.