British Museum should move north, think tank says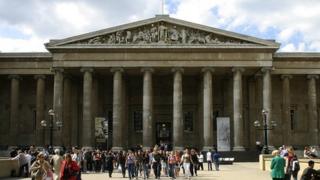 Cultural venues like the British Museum and Royal Opera House should be moved to the north of England, according to a former adviser to Tony Blair.
Patrick Diamond, who worked for the Labour government for a decade, made the suggestion in a paper on boosting the regions for the think tank Civitas.
He also recommended setting up a regional base for the House of Lords.
The south-east of England is too dominant and a "massive shift of power to the regions" is needed, he argued.
Such a move would stimulate the economy outside the capital, he said, pointing to the relocation of several BBC departments to Salford in 2011.
"Although there is some controversy about the move to Salford, I think there is general agreement that it has benefitted the north-west," he said.
Moving prestigious London-based institutions like the British Museum and Royal Opera House could "have a catalytic effect that will strengthen the position of those economies outside the south-east", he explained.
A British Museum statement said it "does not have any specific response to this proposal" but said it had "a very strong presence" around the country by lending almost 2,000 objects to more than 60 museums around the UK last year.
The Royal Opera House did float a plan to establish a northern base at Manchester's Royal Opera House in 2008, but that was scuppered by the economic crisis.
Other London-based institutions have opened branches elsewhere. They include the Tate's galleries in Liverpool and St Ives, the Imperial War Museum North in Manchester and the V&A, which is launching a £45m venue in Dundee in 2015.
Mr Diamond spent 10 years working with both Tony Blair and Gordon Brown, including as head of policy planning in 10 Downing Street and senior policy adviser to the prime minister.