Press views: Jeeves and Wooster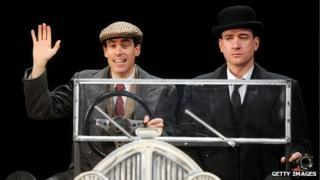 A West End vehicle for PG Wodehouse's Jeeves and Wooster characters has been received enthusiastically by critics.
The Evening Standard's reviewer called Perfect Nonsense "smart and crafty", while the Telegraph's said Wodehouse "would have loved" the production.
Richard E Grant, New Tricks star Amanda Redman and The Who's Roger Daltrey were among Tuesday's first night audience.
The show stars Stephen Mangan as dim aristocrat Bertie Wooster and Matthew Macfadyen as his manservant Jeeves.
The three-man cast is completed by Mark Hadfield, who plays a variety of roles in a story based on the 1938 novel, The Code of the Woosters.
Macfadyen also takes on a number of roles in Sean Foley's production, which sees Bertie attempt to present the action of the novel as an amateur stage play.
Speaking afterwards, former Spooks star Macfadyen said the show was "exhausting" but "exhilarating" to perform.
"Your levels of concentration have to be so high," the actor told the BBC. "You can't drop the ball or slip for a bit."
"It's a work-out," agreed Mangan, of Episodes and Green Wing fame. "There's only three of us in it so we are fully occupied every single minute.
"The idea is to make it look chaotic, when it's actually rigorously drilled and very precise."
Mangan, though, played down suggestions that the pared-down cast was in some way emblematic of the UK's current climate of financial austerity.
"It's certainly producer-friendly, that's for sure," he told the BBC. "But we're on footballers' wages, so maybe it isn't."
"We did it this way because we thought it would be fun," added Foley. "It wasn't to do with keeping costs down.
"Every time I look at the show, I'm really surprised the Wodehouse estate allowed us to do it this way."
Here are excerpts from reviews of Perfect Nonsense, which continues at the Duke of York's in London until 8 March 2014.
Daily Mail - Quentin Letts
What makes the show better than many Wodehouse adaptations is that much of the author's original words are used.
Some particularly glum fate is compared to "something that might have occurred to Ibsen in one of his less frivolous moments" [while] Bertie, on receiving some bad news, said it hit him like "one who has been picking daisies by the railway line and catches the 4.15 in the small of the back".
Sean Foley's production may not be clutch-your-sides funny but it will have you smiling consistently, and at moments laughing aloud.
Read the full review here.
Daily Telegraph - Charles Spencer
With his glassy grin and an astonishing laugh that puts one in mind of a both a braying donkey and a door creaking open on rusty hinges, Stephen Mangan proves the perfect Wooster.
Matthew Macfadyen is equally fine as Jeeves, commanding, sepulchral and extremely strict in the matter of men's trouserings, no matter how fraught the situation may be.
There are some unfortunates who can't stick Wodehouse at any price, and fanatical admirers of the great man may feel that this show takes too many liberties with the master.
But I suspect that Wodehouse himself would have loved this production, and there is no doubt that it captures the dotty, sunlit innocence of his work with panache.
Read the full review here.
Evening Standard - Henry Hitchings
Although the plot is thinner than an ant's eyebrow, there's plenty of clever and silly business, buoyed by the expert performances of Matthew Macfadyen and Stephen Mangan.
Director Sean Foley is adept at farce, and Alice Power's designs are ingenious.
At times the production feels like a glitzy star vehicle, perhaps a bit too pleased with itself. Yet mostly this is smart and crafty stuff.
Read the full review here.
The Guardian - Michael Billington
How do you dramatise a sublime novel like PG Wodehouse's The Code of the Woosters? The answer, in this new version by the Goodale Brothers, is to turn it into a play supposedly written by Bertie Wooster himself.
The result is an effortful and occasionally inspired piece with strong echoes - unsurprisingly, given that it is directed by Sean Foley - of the comedy duo The Right Size and their Morecambe and Wise tribute, The Play What I Wrote.
For me, the best bits are those when you hear the authentic voice of Wodehouse himself.
Read the full review here.
The Independent - Paul Taylor
The nudge-nudge pretence of chaotic amateurism in Sean Foley's knockabout production (the bicycle-powered revolve, say) can get a bit tiresome.
But Macfadyen and Hadfield turn in tours de force of inspired silliness and versatility. And I don't see how Mangan, with his honking toff's laugh and his lovely aura of benign dimness and noblesse oblige, could be bettered as Bertie.
By and large, top-hole.
Read the full review here.
What's On Stage - Michael Coveney
This new three-hander by Robert and David Goodale, hyper-inventively directed by Sean Foley, goes down the route of meta-theatricality, laying a sort of 39 Steps approach across the improvisatory template of The Play What I Wrote.
Stephen Mangan's red-jacketed Wooster, baring his teeth and braying like a demented donkey, is therefore lumbered with an audience to whom, on an empty and under-populated stage, he is obliged to recount a drastically filleted but basically accurate version of PG Wodehouse's 1938 comedy classic The Code of the Woosters.
The show's brilliant joke is that the implacable Jeeves, whose interventions are only implied at leisure in the original, is translated into a quick-change artist in the cause of smoothing out the creases, and the crises, in the story.
Foley's production probably errs on the side of too much scenic and stage-effects business. But it seems churlish to complain about a show that is so fertile and generous in its presentation, and so spiritedly performed.
Read the full review here.