Radio 4 opens doors for Children in Need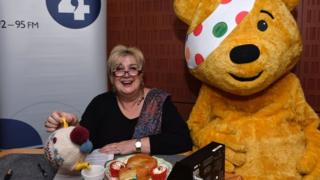 Listeners to BBC Radio 4 will have the chance to record the Shipping Forecast, or meet the presenters of the Today programme and Woman's Hour, as part of a Children in Need fund-raiser.
An online auction, launched on Saturday Live on 9 November, will let audiences bid for more than 40 prizes.
"We thought we'd try something different this year," said the station's controller Gwyneth Williams.
"Something for you, listeners, to find, join in, share or take away."
Among the prizes will be the opportunity for listeners to attend a recording of The Archers; tickets to a UK test match, including tea with Jonathan 'Aggers' Agnew; and the chance to meet songwriter Rufus Wainwright as he records at the famous Maida Vale studios for a forthcoming edition of Mastertapes.
Fans of the flagship current affairs show, Today, can win an early morning visit to join the production meeting, watch the show go out live and then have breakfast with its presenters.
"This is a prize that involves getting up at 5am to join our team of journalists and presenters as we broadcast the day's news and current affairs to around seven million people, live on BBC Radio 4," said Jamie Angus, editor of Today.
"You'll also have the pleasure of seeing some of the more disturbing early morning sights in Today's world including John Humphrys' cereal bowl.
"Despite that, we anticipate a lot of interest and we look forward to welcoming the winner into the team for the day."
Women's Hour and Just A Minute are among a host of popular shows, including long-running drama series The Archers, offering listeners the chance to sit in on a recording and meet the team.
Meanwhile, Grayson Perry, who delivered this year's Reith Lectures, has created an exclusive series of drawings - with three signed digital prints available for auction.
"This is your Radio 4, open to you in all its richness in support of Children in Need," said Ms Williams.
The auction will be accessible through the Radio 4 website and is run through eBay. It finishes at 2100 GMT on Sunday 17 November.