John Grisham: A Time to Kill to close early on Broadway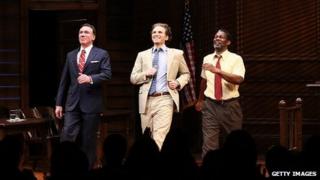 A Broadway stage adaptation of A Time To Kill by John Grisham is to close after less than two months, producers have announced.
The play was based on the US thriller writer's 1989 book, which was turned into a 1986 film which earned Samuel L Jackson a Golden Globe nomination.
Weekly takings never topped $300,000, and last week saw houses filled to an average of 55% capacity.
The curtain is set to close on the show on 17 November.
The legal drama told the tale of a black father in the deep south who takes the law into his own hands when two white racists rape his daughter, and the young lawyer who takes on his case.
The film co-starred Sandra Bullock, with Matthew McConaughey in his first starring role as lawyer Jake Brigance - winning him an MTV breakthrough award
It was also nominated for a Razzie for the worst written film grossing over $100m.
The stage show received mixed reviews with Variety noting "a distinctly dated feeling to the material — not the topic of Southern racism, but the youthful idealism of its hero".
However, USA Today said it was "more sharply focused than the 1996 film adaptation of the novel, and does a better job of incorporating folksy humour into the disturbing and at times pedantic story".
Speaking at the time of the show's launch, Grisham said: "It was my first book and the first that I have allowed to be adapted for the theatre.
"I am happy that not only my loyal readers, but a whole new audience will be able to experience this story in live theatre."
Grisham published Sycamore Row, his long-awaited sequel to A Time to Kill, just two days after the Broadway production's opening night.