Sir Winston Churchill's childhood home gets green plaque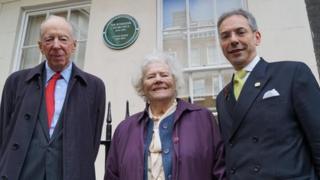 A plaque has been unveiled at the childhood home of former Prime Minister Sir Winston Churchill in London.
The green plaque at 29 St James's Place commemorates the home he lived in before leaving for boarding school.
Westminster City Council's Deputy Leader Robert Davis said the green plaque "signifies that important early step in Churchill's life story".
Churchill's daughter Lady Soames and the property's long-term resident Lord Rothschild were at the unveiling.
London has a number of plaques associated with the war-time prime minister but this is the first to honour his childhood.
Nobel Prize
Churchill's grandson, Conservative MP Nicholas Soames, said: "Westminster has so much really important history.
"The history of my grandfather is evergreen, so it is a wonderful gesture to have a green plaque for him."
Lord Rothschild, who sponsored the commemoration, said: "The Rothschild family have had a connection with the Churchill family that dates back over 100 years.
"We are delighted to be here and pay our tributes today."
Born on 30 November 1874, Churchill joined the military and fought on the North West Frontier of India and in Sudan before escaping from a prisoner of war camp while working as a journalist during the Boer War.
He moved into politics in 1900 and became Conservative member of parliament for Oldham.
When Neville Chamberlain resigned as prime minister in May 1940, Churchill took his place and led the country through the remainder of World War Two and victory over Nazi Germany.
He lost power in 1945 but returned as Prime Minister from 1951 until 1955. He also won the 1953 Nobel Prize for Literature.
Churchill died on 24 January 1965 and was given a state funeral.
The Green Plaque Scheme draws attention to buildings in Westminster associated with people who have made lasting contributions to society, the council said.