David Tennant 'thrilled' to receive Ian Richardson ring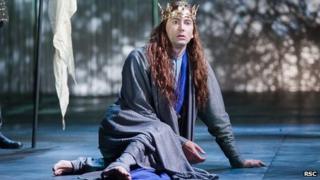 David Tennant said he was "touched and thrilled" to receive a ring belonging to the late Scots actor Ian Richardson to wear on stage as Richard II.
Richardson, best known for playing the scheming politician Francis Urquhart in House of Cards, played the role at the Royal Shakespeare Company in 1973.
Former Doctor Who actor Tennant has been wearing the amber stone ring since receiving it from Richardson's widow.
"It's lovely to have this as a kind of talisman," he told the BBC.
Tickets to see Tennant's performance are sold out in Stratford-upon-Avon and London.
But disappointed fans have a chance to see the actor in the RSC's production when it is broadcast live into cinemas around the world on 13 November.
Shared history
The actor, who has received much attention for the long hair extensions he wears for the part of Richard II, received the large brass ring on the press night for the play, earlier this month.
Richardson's widow, Maroussia, found it while she was tidying up at home.
She said she thought it was "a good idea" to give it to Tennant, because he went to the same drama school as her husband.
Both actors were born in Scotland and she said she was keen to celebrate the "Scottish connection."
Tennant said he was "touched and thrilled" when it arrived.
"I immediately wanted to wear it in the performance. I wanted to have a bit of Ian Richardson on stage with me, giving me a hand," he said.
The actor, who is currently on the small screen in the legal thriller The Escape Artist, added he has been wearing it ever since.
"It means an enormous amount to me. I was terribly moved.
"It felt like a blessing and encouragement from history."
The piece joins a sonic screwdriver Tennant was given after playing Dr Who.
But he said he was committed to passing it on one day, "to make sure that the legacy moves on".
"This ring needs to find its way down the generations," he added.
Richardson won the Bafta for best TV actor award for his portrayal of Tory chief whip Urquhart in House of Cards, which ran for four episodes in 1990.
The character was said to have been based on Richard III and Macbeth, with cunning asides to the camera used as an essential way to pull viewers into the story.
Although he gained his highest profile in film and television work, Richardson - who died in 2007 - was also a leading Shakespearean stage actor.