Polish film Ida wins double awards in Warsaw and London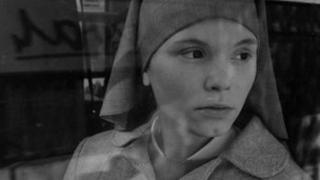 Polish director Paweł Pawlikowski won best film at the Warsaw Film Festival on Saturday - but missed the event to accept the same prize in London.
His film, Ida, tells the story of a novice nun who must confront a family secret, dating from the Nazi occupation, before taking her vows.
The Warsaw jury called it "a beautiful and delicate film" about post-war Poland "trying to get past its demons".
Actress Agata Kulesza accepted the Grand Prix on Pawlikowski's behalf.
The jury's decision was based on "the superb combination of script, directing, cinematography, acting and music," they added in a statement.
Now based in Paris, Pawlikowski first made his name as a feature filmmaker in the UK.
He received a Bafta for best newcomer with Last Resort in 2000, and went on to win best film at the Edinburgh Film Festival with My Summer of Love in 2004.
Ida is his first film to be made in his native country.
The director has admitted that people had doubts about the black-and-white film, which was shot with a static camera and features actors unknown outside Poland.
Some said it could have been "a little bit of professional hara-kiri," he said. "But it doesn't seem to be the case, so I'm really relieved."
At the BFI London Film Festival, Ida beat competition from the likes of Parkland, about the assassination of John F Kennedy, and Under The Skin, which stars Scarlett Johansson as "a voracious alien in human form".
Philip French, president of London's official competition jury, described Ida as a "courageous film that handles, with subtlety and insight, a painfully controversial historical situation - the German occupation and the Holocaust - which continues to resonate".