Gravity eclipses competition at US box office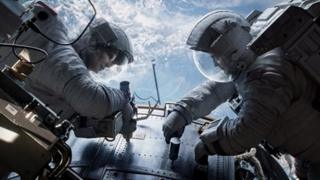 Astronaut thriller Gravity has kept its grip on the North American box office for a second consecutive weekend.
The outer space drama starring Sandra Bullock and George Clooney took $44.3m (£27.7m) according to early estimates.
It easily beat Tom Hanks' latest film, Captain Phillips, which took $26m (£16.3m).
The movie tells the true story of the cargo ship captain who was taken hostage by Somali pirates after his ship was hijacked in 2009.
Both films have earned critical acclaim with both Bullock and Hanks tipped as likely Oscar contenders.
Gravity's successful second week haul brings its total US domestic takings to $123.4m (£77.2m).
"They say what goes up must come down, but that's not really true with Gravity," box office analyst Paul Dergarabedian said.
"To have opened as big as it did last week and only drop 21% [in revenue], that's really an amazing hold. It's a direct testament to the word of mouth on the movie."
Animated sequel Cloudy With A Chance of Meatballs 2 was at three in its third week of release with $14.2m (£8.9m).
The weekend's only other new release, Machete Kills, opened in fourth place with $3.8m (£2.4m).
The gun-toting sequel from director Robert Rodriguez and starring Danny Trejo and Michelle Rodriguez is the follow-up to Machete, which earned $11.4m (£7.1m) when it opened in 2010.
Runner Runner, starring Ben Affleck and Justin Timberlake, fell two places to five with $3.7m (£2.3m)