Rosamund Pike 'lands female lead in Gone Girl movie'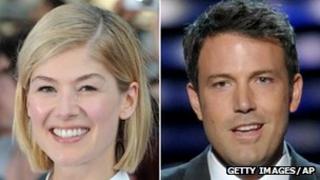 Former Bond girl Rosamund Pike has won the coveted female lead role in the film version of hit novel Gone Girl, according to the Hollywood Reporter.
Pike will reportedly star opposite Ben Affleck in David Fincher's film of Gillian Flynn's best-selling thriller.
The Die Another Day actress is said to have beaten a host of stars to the role of Amy, a wife who goes missing on her fifth wedding anniversary.
The 34-year-old can currently be seen in British comedy The World's End.
Pike previously appeared opposite Tom Cruise in Jack Reacher, with Carey Mulligan in An Education and with Keira Knightley in the 2005 film of Pride and Prejudice.
Emily Blunt, Jessica Chastain, Natalie Portman and Charlize Theron were among other leading actresses to have been linked to the role of Amy.
Readers across the world have been gripped by Flynn's third novel, which uses alternating first-person narration to pick apart a toxic marriage.
Affleck will reportedly play Nick, a journalist turned bar-owner who is suspected of killing his wife following her unexplained disappearance.
Flynn sold the film rights to her novel to 20th Century Fox for a reported $1.5 million (£975,000) and has written the script for the big-screen version.
Fincher previously directed the US film adaptation of hit Swedish crime thriller The Girl with the Dragon Tattoo, starring Daniel Craig and Rooney Mara.
According to reports last week, the script for proposed follow-up The Girl who Played with Fire is currently being rewritten by Seven scribe Andrew Kevin Walker.