The Smurfs venture to Europe but miss out out home country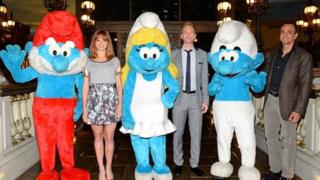 These beloved blue creatures are one of Belgium's biggest exports - but when it came to planning a sequel to The Smurfs, producers decided to set the new film an hour away from Brussels - in the French capital, Paris.
Like Tintin, Les Schtroumpfs, to give them their original name, have been part of Belgian cultural consciousness since the comic artist Peyo created them in 1958.
Over the past half century, they have become a global brand with books, a song that topped the charts in 16 countries, a Hanna Barbera cartoon that ran for a decade and now, the beginnings of a Hollywood franchise.
The first movie, starring Neil Patrick Harris and Hank Azaria as "real life" characters alongside the animated Smurfs, was set in New York. So why, in the Europe-set follow-up, have they decamped so tantalisingly close to home - but in a completely different country?
"We feel that by going somewhere that speaks French, we are going back to the language roots of The Smurfs at least," explains producer Jordan Kerner.
"But by setting it in Paris, we are getting global landmarks that we can't really get elsewhere. The Eiffel Tower, the Opera House - these are all amazing places for the Smurfs to run amok. And the Parisians have been so incredibly kind to us that we achieved a film first - no other crew has had such good access to the city's landmarks in their history."
Much is riding on the success of the sequel after the first movie, released in 2011, was, as the Smurfs themselves would say, a smurfing success. It made more than half a billion dollars at the box office alone, excluding DVD sales.
"I was incredibly surprised that it took so well," confesses Neil Patrick Harris.
"I knew that it had ebbed and flowed in popularity since the TV series in the 1980s and, of course, a whole generation of children had never heard of them.
"But then it didn't fall out of the top spot after three weekends in cinemas, and that happens once in a blue moon. Pardon the pun."
"I think wherever you live, you think the Smurfs belong to you," adds Jordan Kerner.
"So if you're in the USA, you think the Smurfs are American. They may be true blue Belgians in their hearts, but everyone thinks they have a share in them. And they're very, very endearing to small children everywhere."
The plot centres on the story of Smurfette, and how she came to be the only girl in Smurf village. Singer Katy Perry voices the female Smurf, providing her first lead role in a film. However, Perry was, according to Kerner, chosen "completely anonymously from a range of voices we were asked to listen to".
"They work very hard to make sure we don't know who they are - trust me, we wouldn't know Meryl Streep if she turned up in the mix - so we do pick with more than popularity in mind, and Katy has this visceral, male, raspy quality in her voice.
"We don't want Smurfette to sound too sugary sweet as she has that kind of personality anyway."
Perry insists she is not interested in furthering her acting career "as there's too many singers out there who think they can act, and too many actors who think they can sing - it doesn't always work that way" .
Surprisingly, it is not Perry who provides the soundtrack for the movie.
Instead fellow pop star Britney Spears has recorded the title track, Ooh La La. If it all sounds light years away from the innocence of Father Abraham's 1978 hit Smurf Song, Kerner insists the family of the creator, Peyo, who died in 1992, approves of any changes.
"We talk to his wife and family at least two or three times a week during shooting," he says. "We are very keen to keep its roots and honour the original traditions of the Smurfs. But they appreciate that we have to move with the times in other ways, to make it relevant to our audience."
However, when it comes to filming the Smurfs, Neil Patrick Harris adds, it's still done using the traditional methods of storyboarding, followed by markers on set to denote where a Smurf would be standing in a scene. The animation is added in later.
"It took a long time to feel comfortable with this," he admits.
"I used to embarrass myself wildly to begin with, looking in the wrong place. It helps that the markers now have little LED lights on them all around, representing which Smurf is standing where. They light up according to which one is talking, so you know where to look. You'd be surprised just how much trial and error there is during a scene with me and five Smurfs."
Hank Azaria, who plays Gargamel, the wizard who wants to destroy the Smurfs, confesses to embarrassment of a different kind: the costume and make-up required to transform into what he describes as "a preposterously evil wizard".
"I mean, he's so bad, he's ludicrous. I was really nervous about the reaction to how I would look playing him. On the first day of shooting, in New York, I had to walk three blocks from make-up to the set in full costume.
"No-one in Manhattan batted an eyelid - apart from one dude, who just looked at me and said in passing 'Whassup, Gargamel?'
"The most feedback I have got from anyone is my four-year-old son, who asks me if I am going to be Gargamel today, he seems to think it's my job. I guess that's why you do it - for the children, and then if you can throw in a few laughs for the parents who've been taken along to watch it with them, that's a bonus."
Neil Patrick Harris agrees the secret to the Smurfs' popularity with children is their innate goodness, which he describes as "timeless".
"This movie will teach kids about a family - one that is chosen rather than one that is given to you at birth. When I think of all the broken families around me right now, and speaking as a man who has children with another man, it's a great note to affirm to a child.
"But no doubt about it, we have to use the word 'smurf' a lot. By the end of shooting, we can be smurfing sick of it."
However, he will almost certainly be repeating it in a third film, which is already being written, with an expected release date of 2015.
Producers have confirmed that the historic Belgian city of Bruges is being considered as a location - meaning the Smurfs may, at some point, finally make it home.
The Smurfs 2 is released in the UK on 31 July.