Sir Elton John to get first Brits Icon award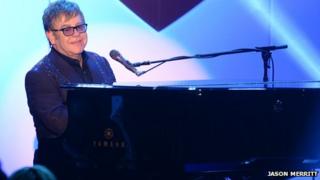 Pop star and songwriter Sir Elton John is to be the first recipient of a new annual honour launched by the Brit Awards organisers to celebrate major figures in music.
He will receive the Brits Icon award at a show in September which will be broadcast later by ITV.
The prize has been created by the BPI, the music industry's trade body.
It will go to an artist whose writing, recording and performances have made a "lasting impact" on UK culture.
Sir Elton, 66, who was recently treated for appendicitis, had to cancel a headline appearance in Hyde Park this month.
'Tremendous honour'
However, it is expected he will recover in time to perform at the Brit Icon awards show on 2 September.
He said: "It's a tremendous honour and a real thrill for me to have my work acknowledged in this way, and I'm really looking forward to participating in what promises to be a very special occasion."
The BPI and Brit Awards chief executive Geoff Taylor added that Sir Elton had "achieved such a level of artistic creativity and originality, critical acclaim, global recognition and popular success" that he deserved to be recognised as a "true icon of our cultural life".
Sir Elton has sold more than 250 million records globally.
His track Candle in the Wind '97, which was released in the wake of the death of Diana, Princess of Wales and which he performed at her funeral, is the biggest-selling single of all time, hitting 33 million copies.
Proceeds from the show will go to the Brit Trust and the Royal Academy of Music, where Sir Elton trained.