Sex Pistols John Lydon to receive music honour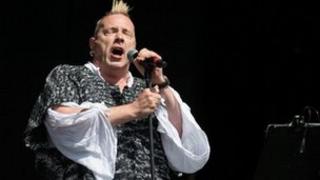 Sex Pistols frontman John Lydon is to receive a special award for his contribution to music from music rights organisation BMI.
The punk musician, also known by his former stage name Johnny Rotten, will be presented with the Icon Award at the industry bash in October.
The award is given to songwriters who have had "an indelible influence on generations of music makers".
Previous recipients include Ray Davies, Van Morrison and Bryan Ferry.
"John Lydon is a true icon whose influence on music, fashion and art has been felt around the world," said Del Bryant, the president of BMI.
"We are very pleased to recognise his impact on popular culture and his outstanding musical contributions with the BMI Icon Award."
The Sex Pistols were the at the head of the punk movement in the UK in the mid-1970s and are credited with influencing later punk and alternative rock bands in the UK and elsewhere.
They courted controversy with singles such as Anarchy in the UK and released the anthem track God Save The Queen around the Queen's Silver Jubilee in 1977, scoring a number two hit.
Lydon, considered by many to be an enfant terrible of the music business, also caused a furore when the band swore on TV in 1976.
The Sex Pistols split in 1978 after a disastrous US tour and Lydon went on to form Public Image Ltd (PiL) which produced eight studio albums and several hits including Public Image, Death Disco and Warrior.
The 57-year-old, who has presented wildlife shows and taken part in ITV's I'm A Celebrity ... Get Me Out Of Here! in recent years, is still touring with PiL after reforming in 2009 - recently performing at the Glastonbury festival.
The BMI awards will take place in October at London's Dorchester Hotel.