Anne-Marie Duff to make Broadway debut with Ethan Hawke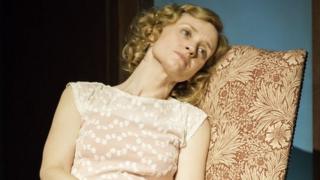 British actress Anne-Marie Duff is to make her Broadway debut alongside Ethan Hawke in a new production of Macbeth.
She will play the role of Lady Macbeth at the Lincoln Centre Theatre in New York from October.
Jack O'Brien, who has won three Tony awards including best direction for Hairspray in 2003, will direct the Shakespeare classic.
Duff, known for playing Fiona Gallagher in TV drama Shameless, has several Bafta and Olivier nominations.
The actress, who is currently starring as Nina in Eugene O'Neill's 1920s epic Strange Interlude has received rave reviews for her performance at the National Theatre in London.
In Charles Spencer's five-star write up in The Telegraph, he said Duff "brings a thrilling raw intensity to the stage".
The Independent's Michael Coveney called Duff's "scintillating" performance "effervescent".
Her performance in George Bernard Shaw's St Joan at the National in 2007 was acknowledged with a London Critics Circle Award and an Olivier nomination.
She was twice nominated for a Bafta for her role in Channel 4's Shameless, as well as for her portrayal of Queen Elizabeth I in The Virgin Queen and her supporting role in Nowhere Boy.
Duff, who is married to Scottish actor James McAvoy, is one of a number of British actors appearing on Broadway this autumn.
Daniel Craig will star alongside his wife Rachel Weisz and Rafe Spall in Harold Pinter's love affair play, Betrayal.
Directed by 10-times Tony Award-winner Mike Nichols, the production opens at the Barrymore Theatre in October.
Lord of the Rings star Orlando Bloom will also make his Broadway debut in a modern adaptation of Romeo and Juliet with Condola Rashad.
Director David Leveaux, who led the Beatles play Backbeat in the West End, will cast white actors as the Montagues and black actors as the Capulets.
Bloom made his professional stage debut six years ago in London in a revival of David Storey's In Celebration.