Hollywood's golden couple laid bare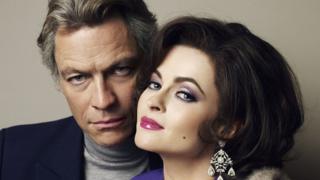 The relationship of Hollywood couple Richard Burton and Elizabeth Taylor has been dramatised for a new BBC production.
Mention Elizabeth Taylor, and long after her death - and despite the fact she went on to marry two men after him - people of a certain age will immediately think of Richard Burton.
Hollywood icon Taylor and the revered Shakespearean actor Burton became as familiar to audiences for their all-consuming and tumultuous relationship, as they were for their performances.
Having fallen in love on the set of Cleopatra in 1963 while they were both still married, the pair went on to wed and divorce twice but they remained friends.
They reunited professionally on the Broadway stage in 1983, for a revival of Noel Coward's famous play Private Lives, and it is this point in their lives that is the focus of BBC Four drama Burton and Taylor.
Bafta-winning actor Dominic West and double Oscar-nominee Helena Bonham Carter play the iconic couple during this pivotal period.
"He's just under a year away from death," says West, of Burton.
"They meet at her 50th in London, then go to Broadway and tour Private Lives for nine months. Then Taylor goes into the Betty Ford clinic straight after and Burton goes to Switzerland and dies - so it's the lowest point of her life and the prelude to his death."
Under pressure
Both actors admit they felt daunted at the prospect of playing such famous people.
"I didn't want to offend anyone who knew her," says Bonham Carter, "and I didn't want to offend her, even though she's not around."
The actress did her usual research for a real-life part - "I read thousands of biographies" - but then turned to a more unusual source for inspiration.
"I've got a great friend who's an amazing astrologer, she's really good at distilling people and seeing their characteristics."
The astrologer told her Taylor - a Piscean - had "the most amazing sense of humour".
"She was all about water. [Burton's] nickname for her was ocean. A lot of people talked about her liquid eyes (Bonham Carter wore blue contact lenses for the role)."
"She was so unashamedly sexual and womanly and clever but she didn't advertise the intelligence at all," the actress explains.
Bonham Carter is also friends with a god-daughter of Taylor, who encouraged her to take the role.
West had a more relaxed approach to playing Burton - until he saw the first note in the script which read: 'The most beautiful voice you've ever heard', which he jokes put him under some pressure.
"The only time I ever really got the voice was after a night's heavy drinking and smoking. It's impossible to get that timbre - it's all herbal [cigarettes] on set now."
West visited Burton's home town of Pontrhydyfen in south Wales as part of his research.
"What really hit me about him was that his is one of the most romantic stories of any actor of recent times."
"You've got the romance of him being a miner's son and his mum dying when he was two, and coming from this place to be the biggest star in the world and married to the most beautiful and biggest star in the world. I was hugely moved by that," says West.
'Addicted to publicity'
Burton and Taylor had always played out their volatile love affair in public, but now they were thrusting themselves on to the stage in an ironically-named comedy play about a divorced couple who discover they are honeymooning with their new spouses in neighbouring rooms at the same hotel.
Why seek to fan the flames of publicity? Was it just about the money - which was a huge $70,000 (£46,000) a week?
"I think she wanted him back - but he'd found [his fifth wife] Sally unfortunately, and he was sober," says Bonham Carter.
Taylor and Burton's addictions are well-documented - she to prescription drugs and alcohol, him to drink.
West believes fame was a big factor in their decision to reunite on stage. Everyone wanted to see the great actors on stage together, especially in a play in which art was imitating life in front of their eyes.
"She couldn't have lived without publicity, it's a drug," he says. "Him too, as much as he wanted to play Lear and get back to his Shakespearean theatre roots, he loved her super-stardom, he loved the fact that she made him a superstar.
"I think you get addicted to publicity and I think they were."
There must have been fierce competition between the pair?
"I don't think they were threatened by each other," says Bonham Carter.
But West disagrees: "I think she compensated for him a lot. The Oscar she won for Who's Afraid of Virginia Woolf? - she didn't go and pick it up because she was going to win it and he wasn't [for the same film].
"She did a lot to shelter him and his male ego from being bruised by her mega-stardom."
'Appetite for everything'
Regardless, it's clear from the drama that Burton and Taylor had a great respect for each other's work.
And although the critics panned the play, it didn't stop fans - and some voyeurs no doubt - flocking to the theatre.
In the BBC drama, opening night sees the curtain going up late after Taylor is mobbed outside the theatre and has trouble getting through the crowds.
Do stars like that exist today? Bonham Carter believes so.
"Brad [Pitt] on Fight Club - when he came out of Venice, that level of hysteria was shocking and scary, and Johnny Depp, too, definitely," she says.
But it is not a problem for her and her equally famous husband, film-maker Tim Burton.
"We're quite different. There are paparazzi around but not like [Taylor and Burton]. We don't need to have bodyguards. I do think you can choose," she says.
Taylor was particularly bruised in later years by paparazzi tales about her lifestyle and ill-health, but tabloid Liz is not the woman Bonham Carter has now come to know and love.
"She had so many amazing qualities, she's a heroine. I kind of liked her [before] but the more I found out about her, I just adored her even more and had more and more respect.
"What I love about Elizabeth is that she was an actress who ate, she had an appetite for everything and wasn't apologetic about it. She loved living."
Burton and Taylor is on BBC Four on Monday 22 July at 21.00 BST.