Alina Cojocaru joins Tamara Rojo at English National Ballet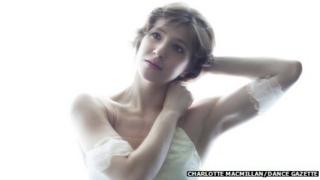 Royal Ballet star Alina Cojocaru is to join Tamara Rojo at the English National Ballet (ENB).
For many years they were the Royal Ballet's biggest stars.
Rojo left to become artistic director of the ENB last year and Cojocaru will join the company as lead principal dancer.
In a statement, the Romanian ballerina said she was "attracted by the opportunities the repertoire offers".
"The combination of the classics and the chance to work with choreographers I really admire," she said.
"Sharing Tamara's passion for the art form and for artistry, I am excited about what lies ahead."
Rojo said she was sure they could give her "the artistic challenges and opportunities she seeks."
"She is one of the dancers I most admire. Her exquisite technique, dramatic qualities and artistry have been a constant inspiration to many, including me," she said.
Cojocaru also said she was "delighted" that the English National Ballet will give her "the chance to reach new audiences outside London".
She will make her debut on 17 October in Milton Keynes at the start of the company's autumn tour. She will dance the role of the heroine Medora in Le Corsaire.
Cojocaru will also appear in the Nutcracker at the London Coliseum at Christmas, Lest We Forget, at the Barbican in April 2014 and Romeo & Juliet at the Royal Albert Hall in June 2014.
She will continue to make guest appearances with Hamburg Ballet and American Ballet Theatre.
Her departure, following Rojo's defection, is a further blow to the Royal Ballet which lost principal dancer Sergei Polunin last year when he unexpectedly quit the company.