Despicable Me 2 stays atop US film chart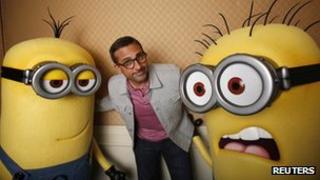 Animated film Despicable Me 2 has held off competition from two new releases to stay atop the US box office for a second consecutive week.
The comedy, featuring Steve Carell as the voice of villain Gru, earned $44.8m (£29.7m) over the weekend according to studio estimates.
Grown Ups 2, starring comedians Adam Sandler and Chris Rock, debuted in second place taking $42.5m (£28.2m)
Third was Guillermo del Toro's Pacific Rim which opened with $38.3m (£25.4).
Since its release earlier this month, Despicable Me 2 has made $229.2m (£152m).
It also holds the top spot in the UK box office chart.
Grown Ups 2 reunites Sandler with Rock, Kevin James and David Spade in a follow-up to the 2010 original, as a group of middle-aged men who spend the summer together reconnecting after the death of their basketball coach.
Rory Bruer, president of worldwide distribution for Sony Pictures Entertainment, said the film had got off to a "great start".
"For us to succeed at this level bodes well for the future of the film," he said, adding that it performed better than the first film's opening.
Female cop comedy The Heat - starring Sandra Bullock as an FBI agent and Melissa McCarthy as a Boston police officer - earned $14m to take fourth place.
It was followed by Johnny Depp's The Lone Ranger, which took $11m in ticket sales and fell from second place to fifth.
Rounding off the top 10 was Superman reboot Man of Steel. It added $4.8m (£3.2m) to its tally, taking its total earnings to $281m (£187m) after five weeks on release.