A Boy and a Bear in a Boat wins Branford Boase Award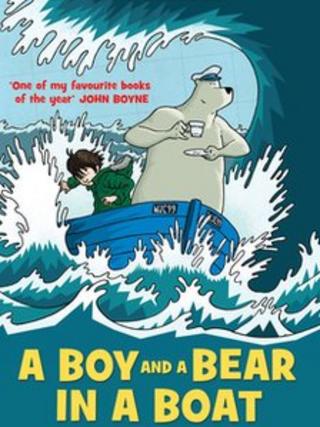 The tale of a boy, a bear, a boat, and a potentially radioactive sandwich, has won this year's Branford Boase Award.
Author Dave Shelton and his editor David Fickling have won the award for Shelton's illustrated fable A Boy and a Bear in a Boat.
The annual award recognises both author and editor of a debut novel for children aged seven and over,
"We all agreed we had never read anything like it," said chair of the judging panel, Julia Eccleshare.
"The UK children's book market is flourishing and the 2013 shortlist was extraordinarily strong, even so, A Boy and a Bear in a Boat stood out: the judges loved it for its originality, for the unique way it tells its story," added Eccleshare, the children's books editor at the Guardian newspaper.
Shelton's book was previously shortlisted for both the Costa Children's Book Award and the CILIP Carnegie Medal.
"I am especially pleased that the Branford Boase Award gives such emphasis to the role of the editor in the process of creating a book," said Shelton, picking up the prize on Thursday evening.
"It's not a role you hear that much about normally but in my extremely limited experience, it's a vital one, especially on your first go.
"And I suspect I may have been rather spoiled in landing David as editor for mine."
He added that the award was about "taking a punt on a risky prospect".
"These are interesting and difficult times in publishing and there must be a temptation, I imagine, to favour safe bets and known quantities much of the time.
"But the nurturing of new talent, by publishing companies big and small, has to be encouraged," he added.
Shelton was presented with a £1,000 cheque by former Children's Laureate Dame Jacqueline Wilson.
"I am so proud that Dave Shelton has won and that his amazing storytelling and drawing skills are being shouted out to the world," said Fickling, whose previous successes include Philip Pullman's Northern Lights trilogy and Mark Haddon's The Curious Incident of the Dog in the Night Time.
"A Boy and A Bear in a Boat is an astonishing piece of work that takes you gently by surprise and which will lodge in the memory of every reader.
"In the sea of publishing there is no one that I'd rather spend time in the book-making boat with than Dave. I am not saying who was the bear and who was the boy, but confess that as an editor I sometimes did not know where we were going but pretended I did!'
Judges also highly commended Lydia Syson and her editor Sarah Odedina for A World Between Us.
The award was set up in memory of the prize-winning author Henrietta Branford and her editor Wendy Boase - who both died of cancer in 1999.