BBC cancels Ben Elton's The Wright Way after one series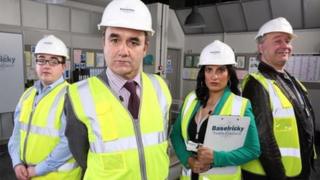 Ben Elton's sitcom The Wright Way has been cancelled after its first series, the BBC has confirmed.
Speaking at a Broadcasting Press Guild lunch, comedy commissioner Shane Allen said the decision had been made "in conjunction" with the comedian writer.
The show, which stars The Thin Blue Line actor David Haig, was heavily criticised in reviews and on Twitter.
Allen said the show was a "valiant effort" but Elton had been "bruised" by the reception.
The writer, known for sitcom classics such as The Young Ones and Blackadder, had previously said his "happiest memories" were from writing BBC comedy.
The Wright Way, Elton's first BBC One sitcom since 2005's Blessed, did not "catch fire with the audience" Allen admitted.
"It wasn't what you could call a flop, over the course of a week it had 3.5m to 4m viewers," he added.
However, TV critics were not as kind with The Mirror calling it "the worst sitcom ever" and the Telegraph said the show's debut episode "barely raises a smile".
The BBC also announced today it has re-commissioned a second series of Count Arthur Strong for BBC Two after its debut this week.
Written by comedians Steve Delaney and Graham Linehan, it stars Delaney as the former variety show star alongside actor Rory Kinnear.