Sky Arts cancels Mariella's Book Show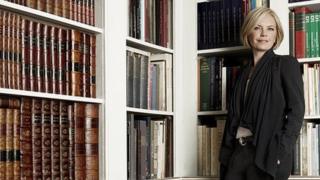 Sky Arts has cancelled Mariella Frostrup's book show following its final episode last month.
Sky said it was "grateful" to Frostrup for her "brilliant work", in an official statement.
"Sky Arts is constantly evolving as a channel, and we are doing everything we can to bring customers a wide range of arts programming," it added.
The show, which featured guests from the literary world, aired its last instalment on 20 June.
Authors such as Philip Pullman and William Boyd have appeared on the programme, as well as musician Alex James and actor Rupert Everett.
Frostrup tweeted: "Not a single book show on British TV now-sad day for UK arts programming."
She also presents the programme Open Book on BBC Radio 4.
Sky's cancellation follows the BBC's schedule change of The Review Show which was moved from a weekly slot on BBC Two to a monthly BBC Four programme.
The adjustment resulted in an 80% loss of its audience when it changed in April this year.
Arts coverage across the BBC is being cut as a result of the £700m cost-cutting measures dubbed Delivering Quality First (DQF).