Royal Opera House announces first West End transfer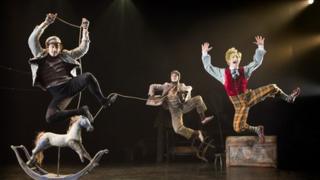 The Royal Opera House (ROH) has announced the transfer of The Wind in the Willows to the Duchess theatre in its debut West End move.
Director Will Tuckett said it was an "exciting development" for the production, which has had three runs since it was originally staged in 2002.
The dance musical, which is based on Kenneth Grahame's classic book, will run for eight weeks at Christmas.
ROH's Sally O'Neill said the move was a "good first step" for the company.
The interim chief executive said she was not expecting the transfer from the 400-capacity Linbury theatre to the 479-seat Duchess to be an immediate financial success.
"It's not a War Horse or a Matilda [the Musical] - it's not going to make us a fortune," she told The Stage .
"It's a small show going into a small theatre for a finite period of time, which makes it a really good first step," she added.
O'Neill said that if the West End transfer was a success, the ROH may transfer other shows from the Linbury to bring a wider audience to their productions.
Tuckett, who also choreographed the musical, said it was a "very different kind of show" for the ROH but audiences have "taken the show to their hearts".
The cast, which features singers, dancers, actors and puppets, has not yet been announced.
The Wind in the Willows will run at the Duchess Theatre, London, from 11 December 2013 to 1 February 2014.