Lake drama vies for Killing acclaim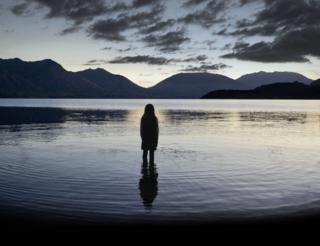 TV crime drama Top of The Lake - which begins this weekend on BBC Two - is set in the beautiful wilderness of New Zealand's South Island. Starring Elizabeth Moss and directed by Jane Campion, it's already drawing comparisons to cult hits The Killing and Twin Peaks.
In the introductory scene of Top of the Lake, a 12-year-old New Zealand girl leaves the gateway of her fortified home, rides through a ghostly forestland and sets down her bike at the edge of a misty shoreline, where she wades into the icy water.
Tui, the daughter of a local crime boss, is pregnant, and although rescuers pull her from the lake before she drowns or freezes to death, she soon goes missing. Her swollen belly holds the clues to finding her kidnapper or murderer. A female detective, who has returned home from Australia to care for her cancer-ridden mother, will lead the hunt.
Set in the staggeringly beautiful landscape of the South Island of New Zealand, Top of the Lake has been called the Kiwi answer to The Killing. Obstreperous and tunnel-visioned, detective Robin Griffin has been likened to Sarah Lund, the central figure in the Danish hit drama. Because the mystery unfolds in a remote community heavily populated by social misfits, there are also parallels with the '90s cult hit, Twin Peaks. Yet this is a very much a signature creation of its New Zealand co-director Jane Campion.
"These are people who have fallen off the edge of the world," says Campion, whose award-winning The Piano was also set in her homeland. "People live there because they want to get away from their problems and because they don't work that well with society."
Over six hours of television their characters unfold. For detective Griffin, played by Elisabeth Moss of Mad Men fame, the hunt for Tui revives powerful memories of her troubled childhood in the lakeside town, and her own coming of age. "Inside her, there is also the lost girl," says Campion. "In finding Tui, she also has to find herself."
A guide in both searches is her one-time boyfriend, Johnno, played by Thomas M. Wright, the estranged son of the local crime lord and himself a one-time drug dealer. His father Matt Mitcham, played with mesmerising menace by the Scottish actor Peter Mullan, not only heads up his own vigilante hunt for his lost daughter but also the police suspect list. .
Not unlike hits like The Sopranos, The Wire, and True Blood, which studied the Mafia, Baltimore street gangs, vampires and shape-shifters, Top of the Lake focuses on subcultures.
As well as the South Island's underworld, the drama takes us into a women's camp set up on a patch of land at the top of the lake aptly named Paradise. They have come under the spell of a mysterious guru called GJ, played by Holly Hunter, who delivers desk calendar wisdom in short, staccato sentences.
It is the first collaboration between the American actress and New Zealand director since The Piano. "Holly and I work together like sisters," says Campion. "I don't how to describe our method. It's about love and friendship."
After initially accepting the role, Hunter tried to talk her way out of it. "I'm used to being your lead woman," Campion recalls her friend saying. "This is a small part." The director tried to persuade her by describing GJ as the "the most extraordinary person in this entire project". Hunter remained unconvinced: "What about the guy who played Gandhi, couldn't he do it?" With long grey hair, GJ bears an uncanny resemblance to Campion.
Of all the main characters, perhaps the most evocative is the landscape itself. At once welcoming and threatening, it becomes a refuge and also the most hostile of environments. For all its vastness, it can be strangely claustrophobic.
"The Queenstown basin is one of my favourite parts of the world," says Campion. "One of the excitements was to introduce the rest of the world to this environment. I'm addicted to it, I just love it."
And if "best landscape" had its own category at the Oscars, the South Island of New Zealand, which has featured in films like Lord of the Rings and The Hobbit, would surely have scooped a clutch of awards. On the day that the Top of the Lake team arrived, crews filming Bilbo Baggins and friends were just leaving town.
Top of the Lake, which Campion co-wrote with Gerard Lee and co-directed with the talented Garth Davies, has already become the first television series to be screened in full at the Sundance Film Festival.
Its screenings in Australia and America have also been met with critical acclaim. "Campion's way of dramatising crime is hypnotic and circular," writes Emily Nussbaum in the New Yorker. "It's an eye opener, in both senses: a model of the sort of series in which words and images carry equal weight."
It has also provoked a powerful, and somewhat polarised, viewer reaction. In Australia, there are those who regard it as a Campion masterpiece. Others have lambasted it for being far too whimsical and self-indulgent.
For Campion it marks a move from cinema to television. "They say you're doing something for the small screen," she says. "But I don't know anyone with a small screen any more." Freed from cinematic time pressures, she has more space to develop characters and to explore her overarching themes: sexual exploitation, and the impossibility of escaping the bonds of family, home and memory.
Oddly for such a compact drama, there are elements that sometimes seem entirely extraneous. Elisabeth Moss delivers a spellbinding performance, combining steeliness and vulnerability, but audiences may struggle to locate her accent. To my ear at least, it sounded more Alaskan than Antipodean.
From its opening scene, though, to its denouement, the series is gripping, and surely one of television's most exquisitely filmed whodunits. As the billing for Top of the Lake has it, this is no ordinary place, and no ordinary crime. And no ordinary crime drama.