Ben Miles is Thomas Cromwell in RSC's Wolf Hall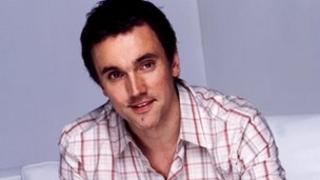 Ben Miles has been cast as Thomas Cromwell in the Royal Shakespeare Company's staging of Booker-prize winning novel Wolf Hall.
He will star opposite Lucy Briers, as Katherine of Aragon, and Nathaniel Parker, as Henry VIII, from December.
The RSC is also producing an adaption Hilary Mantel's sequel to Wolf Hall, Bring Up the Bodies.
Speaking to the BBC earlier this year, Mantel said the plays would rotate night by night as a "mini cycle".
The award-winning novels follow Cromwell, Henry VIII's adviser, and his rise and fall in the Tudor court.
The RSC production is being adapted by Mike Poulton, who has previously brought Anton Chekhov's Uncle Vanya and Chaucer's Canterbury Tales to the stage.
Mantel said she had been "trying to help out but not be a control freak".
"It's very exciting for me to see the characters from the Cromwell novels spring to life, ready for the stage this winter," she said.
"I'm delighted we have secured such gifted actors," she added, "and look forward to meeting the rest of the cast in the near future."
Ben Miles is best-known for his role in TV sitcom Coupling, but previously appeared with the RSC in a 1993 production of The Two Gentlemen of Verona.
Lucy Briers, daughter of the late Richard Briers, is making her RSC debut. Paul Jesson has also been cast in the pivotal role of Cardinal Wolsey.
In production concurrently with the RSC adaptation of Wolf Hall is a six-part BBC series, with Mark Rylance in the lead role.
It is being scripted by Peter Straughan, co-author of the 2011 film Tinker Tailor Soldier Spy.
Meanwhile, Mantel is working on the third book in the trilogy, The Mirror and The Light.