Former BBC boss explains why he gave back severance pay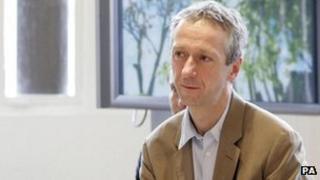 On the day the BBC has been criticised for its £25m severance bill for 150 senior managers over a three-year period, one former BBC executive has explained why he decided to hand his money back.
Roly Keating, previously the BBC's director of archive content, left in 2012 to become chief executive of the British Library.
Mr Keating, who had worked at the BBC for 29 years, was given a pay-off of £376,000 (before tax) when he left the organisation.
But in a letter to BBC director general Tony Hall on 9 June, Mr Keating said he could no longer accept the payment.
Mr Keating wrote that in May this year, he got in touch with the National Audit Office (NAO) after discovering they were conducting a study on severance payment for the BBC Trust.
He then met with the NAO later that month to discuss his compromise agreement with the BBC "and to review the relevant draft section of their report for factual accuracy".
The NAO's report said the BBC had entered a mutually agreed severance arrangement at a time when Mr Keating's post had not been made redundant and he was in discussions with another organisation about a prospective job offer.
'Good faith'
The NAO told Mr Keating they had found the BBC's process for approving his payment was "seriously deficient".
This prompted the former executive to write to Mr Hall: "You will understand that as a matter of principle I would never wish to benefit from a payment that could not be demonstrated to have been fully and appropriately authorised.
"I therefore enclose with this letter a cheque payable to the BBC, amounting to the full sum I received as severance payment after tax was deducted by the BBC at source."
He added that he had originally "entered into and signed this agreement in the belief that the BBC had proposed it in good faith and for good reasons, and that it had been properly sanctioned and authorised".
Mr Keating became the corporation's first director of archive content in 2008.
He was responsible for improving public access to the BBC's archive of television, radio and multimedia content.
Prior to that, he was the controller of BBC Two and before that, controller of BBC Four.