Icona Pop topple Robin Thicke from top of the chart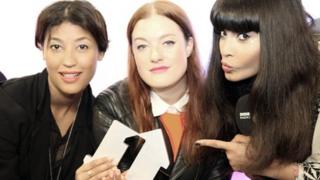 Swedish duo Icona Pop have claimed their debut UK number one single from former chart toppers Robin Thicke and Pharrell Williams.
Their track I Love It FT Charli XCX has shifted nearly 125,000 copies in the last seven days.
Thicke's Blurred Lines sold a further 110,000 copies with its combined total now topping 829,000 sales.
Brits Critics' Choice winner Tom Odell landed the top album spot with his debut Long Way Down.
The 22-year-old singer-songwriter said: "I just found out and I don't even know what to say about it. I got a bit emotional, to be honest with you."
Speaking to the BBC from Glastonbury, Odell added: "I've worked so hard for this for so long and it's just... it's still sinking in.
"I think I'll come up with words later."
Odell followed in the footsteps of the likes of Adele, Florence And The Machine and Emeli Sande in winning the Critics' Choice.
Rod Stewart's Time climbed to number two while Mike Rosenberg, AKA Passenger, climbed two places to three with All The Little Lights.
Michael Buble's To Be Loved was number four and Jake Bugg's debut self-titled album climbed back up the chart to number five.
The only other new entry in the top 40 albums came from Australian electro duo Empire Of The Sun with Ice On The Dune, new in at number 24.
Whatever People Say I Am, That's What I'm Not, the debut album by Arctic Monkeys soared 148 places from 180 to number 32 following their Glastonbury headline slot on Friday.
Back in the singles chart Will.i.am climbed 39 places to number 3 with Bang Bang, following his performance at last weekend's final of The Voice.
The Wanted's Walks Like Rihanna was new in at number 4 and Naughty Boy FT Sam Smith's La La La dropped two places to number five.