Maggie Gyllenhaal to star in BBC thriller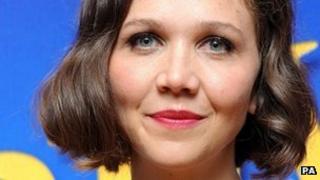 Hollywood actress Maggie Gyllenhaal is to star in a new spy thriller for BBC Two.
The Oscar nominee will play Nessa Stein - the daughter of an arms dealer-turned successful businesswoman - in The Honourable Woman.
Set against the backdrop of the Israeli-Palestinian conflict, the drama sees the character caught up in an international conspiracy.
The seven-part series will be broadcast next year.
It has been written by Hugo Blick, who won a Bafta for directing the BBC Two noir thriller The Shadow Line and also co-created the Rob Brydon comedy Marion and Geoff.
"I couldn't put the scripts down. Nessa is such an exciting and intricate character. I can't wait to begin filming," Gyllenhaal said.
Polly Hill, head of independent drama for the BBC, said: "Maggie Gyllenhaal will be a perfect Nessa Stein, and I am delighted that she has agreed to play her.
"Hugo Blick has created a complex character with an extraordinary story, and the combination of Hugo's stunning scripts and Maggie Gyllenhaal in the lead role is an exciting and powerful combination."
Production is due to begin in London in July.
Gyllenhaal was nominated for a best supporting actress Oscar for her role in 2009 film Crazy Heart.
She will next be seen on the big screen in action thriller White House Down, due to be released in the UK in September.