Kanye West 'one off gig' advert earns AEG a warning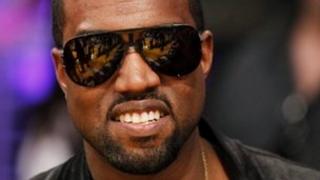 AEG Live has been given a warning from the advertising regulator after it promoted a "one-off" Kanye West show which was followed by further dates.
The concert promoter had offered fans tickets to see the show at London's Hammersmith Apollo on 24 February.
But one person complained that the description was misleading as two concerts were subsequently announced.
AEG Live was told it must no longer describe gigs as "one-off" if there is a chance more dates could be announced.
AEG Live said the concerts were "not typical events" and the first of them was arranged and marketed "at extremely short notice and was intended to be a one-off performance".
However, they added that it was decided to put on additional shows in response to the demand for tickets.
The Advertising Standards Authority (ASA) said it acknowledged the concert promoter had no plans to hold additional concerts at the time the advert was sent.
But it added: "We considered the claim 'one-off' was likely to be interpreted by consumers who received the ad to mean no other Kanye West concerts would take place in the UK."
Two days after the original email was sent, two further concert dates on 23 February and 1 March were announced.
"Because two more concert dates were added which gave consumers further opportunities to buy tickets... and those dates were announced only two days after the ad was sent out originally, we concluded the claim that Kanye West would perform a "one-off" concert in the UK had not been substantiated and was misleading," the ASA said.
Rapper West has just released his seventh studio album Yeezus, which has topped the UK album chart.