Glastonbury preview: Arctic Monkeys, Foals and Disclosure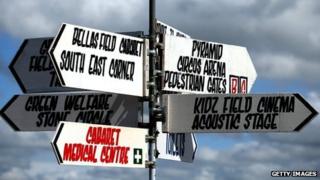 Music, mud and mayhem: The Glastonbury Festival is back after a fallow year in 2012.
This year's line-up includes The Rolling Stones and Sir Bruce Forsyth, who join more than 2,000 other performers at the sprawling, five-day event.
In part two of a two-day preview, we speak to headliners Arctic Monkeys, and some of the other notable artists, musicians and broadcasters who are taking part.
THE HEADLINERS - Arctic Monkeys
It's 10 years this month since the Arctic Monkeys played their first gig at the Grapes in Sheffield. They got paid £27 - a lot less than they're likely to receive for Glastonbury, where they headline the Pyramid Stage on Friday night. Drummer Matt Helder spills the beans.
It must be different to headline the festival for a second time. Do you think you'll be able to appreciate it more?
Yes, I think I'm more prepared for what it entails. We can kind of mould a different set list for it, and maybe have a bit more fun with it.
Any nerves?
So far, I'm probably quietly confident. But I know that as soon as I'm walking up the steps, I'll be in a different place. I'll just be talking nonsense, shivering.
You've been opening shows with the new single, Do I Wanna Know. That's quite brave.
It was one of the first ones we did for the [new] record. But when it came down to playing it, it was quite scary. We didn't practice it that much, we didn't know it that well.
The band have been away for a couple of years. How does it feel to be back on the road?
In terms of the music we're making, it feels very fresh. It's very new for us. But getting back into touring... It is weird. You go back to spending a lot of time with these people you've spent the last however many years with. In a way it is like going home again.
Arctic Monkeys headline the Pyramid Stage at 22:15 on Friday. Matt Helder was speaking to BBC Radio 1's Zane Lowe.
THE COMEDIAN - Arthur Smith
Comedian, playwright and broadcaster Arthur Smith made his name on the alternative comedy circuit in the 80s. A regular contributor to Loose Ends and an original Grumpy Old Man, he will preview his Edinburgh show Arthur Smith Sings Leonard Cohen Volume 2 at Glastonbury's Cabaret Tent.
What's it like performing comedy to a festival audience?
In a way it's harder, because the crowd's more likely to be diffuse, coming in and out. And a few of them are not in their normal headspace. But that's part of it. It's a bubble. It's a city that appears for a few days, then it's gone again.
Do you have an emergency joke in case things go wrong?
Rather than an emergency joke, you'd be better to roll around on the stage wailing, or something. Henry II's jester, famously, in the 13th Century used to come on with a leek, a whistle and a fart. And that would still work, wouldn't it?
Where do you stay after the show?
I've got a caravan around the back of the cabaret field. I take a friend of mine, traditionally, and he's sort of like my butler. I get him a free ticket and he shares the caravan, and then he has to do everything I say.
Such as?
That can involve canapes, going to purchase me some Bonjela, maybe sending a note to a fellow performer. To be honest, he does the tidying up. He's like my wife, I suppose.
Arthur Smith plays the Cabaret Tent at 21:45 on Saturday.
THE CROWD SURFERS - Foals
Oxford quintet Foals have made the transition from spindly indie band to captivating rock contortionists, whose frontman Yannis Philppakis has a worrying inclination to climb the rafters and jump into the audience. Earlier this year, they sold out the Royal Albert Hall in 15 minutes but, he says, "every band in the world wants to play Glastonbury".
A festival set is only an hour long. How does that change things?
You've got to be a little more terse with the set list. We've got into the habit of playing for an hour-and-a-half, but it can be refreshing to condense that. There isn't as much indulgence.
How does Glastonbury compare with other festivals?
We've been in the States the last 15 weeks and we went to some festivals there - and I think it's important for people to realise how good Glastonbury is. It is the blueprint for all festivals. It has an energy that has been mimicked and aped in all sorts of places, and it never comes close to what it's actually like.
You'd get Americans puffing their chests out about the splendour of Coachella. And it's nice. It's fine. But if you haven't been to Glastonbury, you can't understand how much better it is than all the other festivals.
Do you get a rider?
Yes, of course we get a rider!
And what's on it?
Basically just scotch.
If you were Emily Eavis, who would be your fantasy headliners?
Prince. Just Prince. Then the Artist Formerly Known as Prince. Then the Jehovah's Witness version of Prince. Prince three times.
Foals play the Other Stage at 21:00 on Friday.
THE HULA-HOOPER - Angie Mack
Professional Hula Hoop artist Angie Mack starred in Fatboy Slim's music video That Old Pair Of Jeans, and is returning to Glastonbury for the ninth time. She will perform two brand new shows in the circus area.
Not many people know about the Circus area. What's it like?
It's a really energetic atmosphere. It's somewhere where you can go and just watch amazing stuff all day long. I think it's great.
What can people expect from your shows?
In the big top, my show has a swing feel about it. There's lots of big "wow factor" tricks - including a 70-hoop slinky stack, a bit of Charleston, and a lot of different styles of hula-hooping. My other show is also a brand new show - it's an LED glow-hoop show, which means it takes place in the semi-darkness, but you can still see the hoops.
With seven performances across the weekend, will you get to see any of the rest of the festival?
Yes! I love to visit the little stages, because I think you find really great, quirky music and unusual stuff. I have mates who go to Glastonbury just for the music. And I think if I hadn't been there, they never would have found the circus field. But the thing I love about Glastonbury is that it has a little bit of something for everybody - so you should go out and explore.
Angie Mack plays seven shows in the Circus and Cabaret area over the course of the festival.
THE DANCE DUO - Disclosure
Dream-step duo Disclosure recently hit number one with their debut album, Settle. Formed in Surrey by brothers Guy and Howard Lawrence, the band play both a live show and a DJ set at this year's festival, as Guy explains.
What preparations are you making for the weekend?
We don't have time to think about it. We're doing shows all the time: 39 festivals this summer, so they're kind of all blurred into one. So relentless touring is how we prepare!
Jessie Ware and AlunaGeorge, who perform guest vocals on your album, are also playing at Glastonbury. Will you get them on stage with you?
What we usually do, especially with Jessie and Aluna, is just text each other on the day and say "do you guys fancy singing with us?". We always save them for a special show and Glastonbury is obviously very special - so if they can make it, then we'll do it.
How have the audiences changed since the album came out?
We've only done two shows since then. One of them was a DJ set, and we played all of our songs, but the crowd were still shouting "one more tune, one more tune!".
In the past, I'd go out and put on some sort of Motown Classic and that would shut them all up. But instead, I went out and played Fire Starts To Burn and they were singing along. In the space of a week, from no one knowing it to knowing every single word, it was just mental.
Disclosure play the Sonic tent at 21:00 on Friday and DJ at the WOW! stage at 11:30 on Sunday.
THE FESTIVAL FAVOURITES - Editors
Editors' widescreen rock vistas seem specifically tailored for festival audiences, and they have always pulled big crowds at Glastonbury. This year marks their fifth appearance, although it will be their first time without lead guitarist Chris Urbanowicz, who quit last year. Lead singer Tom Smith recalls their triumphs and disasters.
What was your first Glastonbury?
It was 2005 - the year that the Other Stage got waterlogged, and lots of bands got cancelled. We were one of the first bands to actually play, and there were very few people there. We had enormous expectations [but] it wasn't great.
The following time we played, two years later, it was all of the things that I'd ever hoped for: The sun was going down, the field was full of people, and the week after, our second record went to number one. To this day, it's one of the most important shows we've played.
How will it be to go back without Chris?
From my side of things, yeah, it is a bit strange that Chris isn't there and I am still a bit sad about it. Things went badly wrong, and we weren't going to function as a four-piece any more. But, even though I'm sad, I'm immensely proud of the new record, and what better place to baptise a new chapter of the band than a stage like Glastonbury?
What makes Glastonbury so special?
What I like about Glastonbury over the years is that they have taken risks with headliners. Even Mumford and Sons this year - I know they're a big band, but they're only two albums in. They did a similar thing with Coldplay years and years ago. That's what I love about what Emily [Eavis] does. They do take a few risks.
The Editors play the Other Stage at 18:50 on Sunday.
THE ROVING REPORTER - Jen Long
Radio 1 DJ Jen Long presents the BBC Introducing strand, which highlights up-and-coming bands. This year, she will also be reporting on the strange and surreal events happening around Glastonbury for BBC Three.
What's the atmosphere like at the BBC Introducing area?
I love going backstage. Everyone's just going "ARRRGH! WE'RE HERE!" and their friends are like "YOU'RE HERE!" and then they get really nervous until they get off stage and they're like "WEEEEEEEEEEEEEE!"
It sounds a little more chaotic than the "proper" stages.
It reminds you what it's like going to a gig for the first time. That excitement when you run up to the barrier, and you stay there through the support acts for three hours with muesli bars in your pockets, just waiting for your favourite band to come on. It reminds you just how exciting music can be.
What are you most looking forward to?
I'm hoping to see Shangri-La and places like that, which just seem like mystical places in the minds of my friends. And I'm going to try to save my voice this year. Usually, I get to the Sunday night and I do my show with Ally McCrae on Radio 1, and I sound like a witch who's smoked for 40 years.
Jen Long will co-present BBC Three's coverage of Glastonbury across the entire weekend.
THE ONE-TO-WATCH - Mikill Pane
Mikill Pane, aka Justin Smith Uzomba, has been earmarked as the UK's next crossover rap act, having collaborated and toured with artists like Rizzle Kicks, Paloma Faith and Blur's Graham Coxon. The east Londoner brings his sardonic one-liners ("the only guy ruder then me is Prince Philip") to the BBC Introducing stage on Sunday.
What's the best Glastonbury rumour you've heard?
I heard that it didn't take place last year because there weren't enough portable loos and metal barriers in the country with which to supply both Glastonbury and the Olympics.
What have you got on your rider this year?
Rum, ginger beer, gin and tonic. Apparently, riders, as artists know them, have changed drastically over the years. Most promoters will only get you the stuff that's legal now.
What song are you most looking forward to playing?
Andy Warhol, because it's the first song in my set. Once it starts, it means it's really happening.
Mikill Payne headlines the BBC Introducing stage at 20:30 on Sunday.
THE NEWCOMERS - Bridie Jackson and the Arbour
Newcastle quartet Bridie Jackson and the Arbour won the Glastonbury Emerging Talent contest, guaranteeing them a slot at the festival. But they impressed the organisers so much, they ended up booked for five appearances, including the opening night backstage party. Bridie explains how it came about.
Who entered you for the contest?
Jenny, who's our cellist but also out band manager, applied for the competition in January. I don't think she even told us, because we just never assumed it would go anywhere.
What were the other finalists like?
We were fairly overwhelmed by them, especially The Dancers. We just watched them and thought, "wow, clear winners" and proceeded to get merry.
When they announced we'd won, it took me so long to process, I started clapping. Then I registered that it was me and that, for all intents and purposes, I was clapping myself. And then I fell over.
How has winning made a difference to your career?
We've had a lot of really great press coverage, and reviews in blogs we really admire. But the biggest impact has been on us as a band. We've sat up and gone "ok, maybe we're on to something. Maybe this is something worth investing in".
For people who haven't heard you, what should they expect?
I would say that we lean towards folk, with influences of blues and gospel and baroque. No one seems to know how to describe it, even the best writers, so people have to come along and experience it - and then tell us what they think.
Bridie Jackson and the Arbour play the Bandstand at 16:00 on Friday, the Acoustic Tent at 11:50 on Saturday, the Avalon Stage at 11:30 on Sunday.