UK-wide Family Arts Festival launches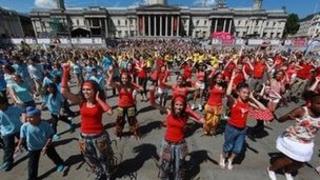 A UK-wide Family Arts Festival has been launched aiming to increase family participation in the arts.
Leading institutions in theatre, dance, music and visual arts are joining together for the festival.
Some 200 venues across the UK have already confirmed they will host more than 400 special events.
The festival is hoping to build on the momentum from last year's London 2012 Festival and Cultural Olympiad in building new arts audiences.
Venues already signed up to the festival include London's Royal Festival Hall and Shakespeare's Globe, the Baltic Centre for Contemporary Art, Gateshead and Manchester's Royal Exchange Theatre.
Organisers predict there will be more than 1,000 events pencilled in by the time the festival starts on 18 October.
Theatres across the UK are programming special productions and events for families.
They include singing workshops taking place in Ambassador Theatre Group theatres across London's West End.
Families will be able to spend the morning at the Barbican watching conductor Valery Gergiev put the London Symphony Orchestra through its paces in an open rehearsal of the work of French Romantic composer Hector Berlioz.
Full details of all the events already confirmed can be found at The Family Arts Festival website.