Martin Scorsese and David Hockney 'to be honoured at LA gala'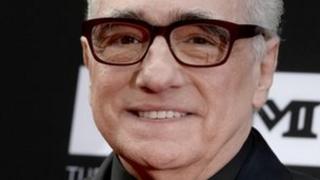 Film director Martin Scorsese and artist David Hockney are to be honoured by the Los Angeles County Museum of Art (LACMA) later this year.
The pair will be honourees at the museum's third annual Art+Film Gala in November, the Hollywood Reporter said.
Scorsese's recognition comes after the director criticised the museum for cutting its weekend screening programme four years ago.
This year's gala will take place on 2 November.
In 2009, Scorsese wrote an open letter to museum director Michael Govan, saying he was "deeply disturbed" by the decision to cut the film screenings.
"People from all over the world are speaking out, because they see this action - correctly, I think - as a serious rebuke to film within the context of the art world," he wrote at the time.
Since then, the museum has appointed a curator for a new screening programme and hosted a Stanley Kubrick retrospective.
The Academy of Motion Picture Arts & Sciences is also set to open its museum on the LACMA campus.
The gala will be co-chaired by actor Leonardo DiCaprio, who has worked with Scorsese on films such as Gangs of New York, The Aviator and The Departed.
"I am thrilled to have my dear friend join us at LACMA and to celebrate his astounding cinematic legacy and leadership in preserving film for future generations," DiCaprio said in a statement.
Past honourees include Clint Eastwood and artist John Baldessari in 2011 and artist Ed Ruscha and the late Kubrick last year.