The Hangover Part III stays top at UK box office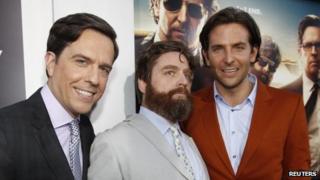 The Hangover Part III has remained the most watched film for the second week running at the UK box office.
The comedy made £2.9m over the weekend to bring its total haul to £13.5m.
It kept Fast & Furious 6 and Star Trek Into Darkness in the number two and four slots respectively, with the 3D animation Epic taking third place.
Neil Jordan's vampire film Byzantium, starring Gemma Arterton, placed at number 10, taking an average of just £715 at each of its 160 locations.
It took a disappointing £114,339 overall in its first weekend.
The final instalment in the Hangover series, which reunites a cast including Bradley Cooper, Ed Helms and Zach Galifianakis, has failed to make the same impact at the US box office.
It missed out on the number one slot and its second week figures were down substantially from its predecessor, The Hangover II, in 2011.
The current US number one film, Fast & Furious 6, has now taken more than £21m since opening in the UK three weeks ago.
Distributor Universal reported that part six of the car franchise was its biggest-ever three-day opening and the biggest 2D opening of 2013 thus far.
Children's 3D animation Epic continues to make an impact, crossing the £10m mark over two weeks.
Based on the book The Leaf Men and The Brave Good Bug by William Joyce, the film features the voices of Chris O'Dowd, Beyonce Knowles and Aerosmith front man Steven Tyler.
Bollywood offering Yeh Jawaani Hai Deewani (This Youth Are Crazy) debuted at number nine.
Directed by Ayan Mukherjee and starring Deepika Padukone and Ranbir Kapoor, it follows a story of heartbreak, first loves and loss.
Other titles in this week's Top 10 include thriller The Purge and The Big Wedding, a comedy starring Robert De Niro, Robin Williams and Diane Keaton.