Karen Gillan cast in Marvel Guardians of the Galaxy film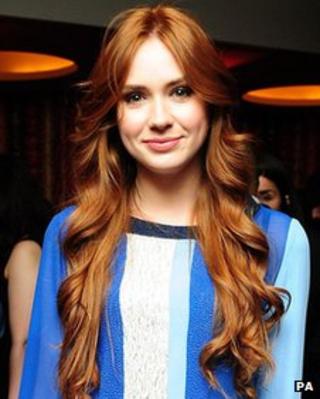 Former Doctor Who actress Karen Gillan has landed a role in Marvel's upcoming superhero film Guardians of the Galaxy.
The 25-year-old will play the lead female villain in the film, according to the Hollywood Reporter.
Benicio Del Toro is also said to have joined a starry ensemble that already includes Glenn Close and Zoe Saldana.
Gillan played plucky Amy Pond opposite Matt Smith's Doctor. Her latest film, Not Another Happy Ending, closes the Edinburgh Film Festival this month.
Shooting on Guardians of the Galaxy, about a group of aliens tasked with the protection of Earth in the 31st Century, is due to begin this month. It is set for release in August 2014.
The film forms part of Marvel's so-called "Phase 2" movement, following an initial raft of superhero movies that culminated with 2012 blockbuster Avengers Assemble.
Star-Lord, Gamora and Drax the Destroyer are among the characters who will feature in James Gunn's movie.
Gillan will also be seen next year in Oculus, a US horror film that recently finished shooting in Mobile, Alabama.