Ambassador Theatre Group buys Foxwoods Broadway theatre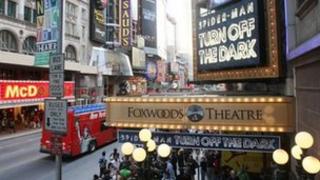 Foxwoods Theatre, Broadway's biggest venue, has been bought by Britain's Ambassador Theatre Group (ATG).
Ambassador, which owns several London theatres including The Apollo and Lyceum, bought the lease from Live Nation Entertainment in a deal reported to be in the region of $60m (£39m).
The 1,930-seat Foxwoods is the current home of the big-budget rock musical, Spider-Man: Turn Off the Dark.
Ambassador bought all of Live Nation's UK venues for £90m in 2009.
The addition of Foxwoods to its portfolio brings its total theatre ownership to 40.
Musicals such as Chitty Chitty Bang Bang and Jesus Christ Superstar are among those staged at Foxwoods since it opened adjacent to New York's Times Square in 1997.
Ambassador has produced several shows on Broadway but its purchase of Foxwoods Theatre is the first time the group has control over a theatre venue in the US.
The company, which is also looking at venues in Australia and Asia, said acquiring Foxwoods was part of its focus on overseas expansion.
"It is no secret that we at ATG have been looking to expand our impressive portfolio of UK theatres, by making acquisitions and alliances in strategic markets around the world," said a statement from the Ambassador Theatre Group.
The company also said it hoped to keep the Spider-Man musical at its current 42nd Street home for a very long time. The show is still regularly topping $1m (£65,800) in box office sales a week.
Live Nation said Foxwoods did not fit into the company's future strategy.