Photographer Rankin comes face to face with death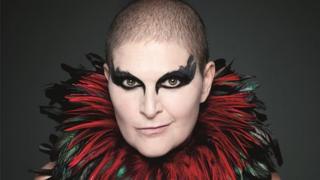 After photographing the world's most famous faces, from Kate Moss and Madonna to Tony Blair and the Queen, Rankin has now turned his lens on real people with terminal illnesses.
When Sandra Barber was diagnosed with a brain tumour, she wanted to wear a mask of war paint on her face every time she went for chemotherapy. Going in for treatment would be like going into battle.
"I didn't want to quietly go down as yet another cancer patient," says the 48-year-old, originally from Switzerland.
"I wanted to fight it. I always felt that I had an inner strength from somewhere else, from another dimension, and I feel connected to a warrior tribe."
Two days later, Mrs Barber, who had already battled breast cancer, was introduced to Rankin.
The photographer has captured glossy celebrities and models for 20 years but, struggling to deal with the deaths of his parents, was mulling a project about mortality.
Mrs Barber told him about her face paint idea. "He said, 'Fabulous, fabulous, I want to shoot you, let's do it next week,'" she recalls.
For the photo shoot, as well as paint around her eyes, she wore an impressive ruff of black and red plumage that cast her as a well-groomed warrior princess.
"I had all the feathers around my neck. Red symbolises hope and black means war. I'm battling this with everything I have. But there's always hope."
Mrs Barber's enlarged portrait now looks down from the front of the Walker Art Gallery in Liverpool, which is hosting Rankin's exhibition Alive: In the Face of Death.
That photo shoot led Rankin to set about photographing other people with terminal illnesses or who have had a close brush with death.
This was not his usual celebrity or fashion assignment. "My approach is always the same, which is to try and create an image that, in your gut, you feel something for," he says.
"This is a little bit different, in that you're collaborating and going into their lives a lot deeper than you possibly would with other projects. But it's been brilliant. If anything, it's been the most inspiring thing I've done."
Other participants include Sam and Dan Lloyd, who have Duchenne Muscular Dystrophy. The 17-year-old twins are pictured mid-cheer, their faces daubed in the red and white of their beloved Liverpool Football Club.
There is Martine Wright, the 2005 London bombings survivor turned Paralympian; Sergeant Johnson Beharry, who was wounded while serving in Iraq; and Doctor Feelgood guitarist Wilko Johnson, who has pancreatic cancer.
Louise Page, who has had bone cancer for almost a decade, is photographed with fists defiantly clenched and make-up streaming down her face.
"The crying shot is very much how it feels internally for me," says the 42-year-old. "That's what it's like inside my head.
"I've hidden that part of myself from everybody all these years so people have felt quite shocked by that image.
"But at the same time, they know I'm protecting and hiding things from them, and they've come to understand that's what it's like for me in reality."
The defiance, strength and vitality on show are striking - perhaps because we are more used to the stereotypical image of the cancer 'victim'.
"That was a surprise to me," says Rankin. "So many people look really healthy who are really, really ill.
"I remember when I went to Africa to do something for Oxfam, people wanted to see the victims. I don't want to show victims.
"I don't think that's what photography should be about. I think people are bored of it as well. I think they're anesthetised to it.
"I think what's interesting is trying to chip away and make people re-address or reconsider it."
Getting to know his subjects has, Rankin says, helped him come to terms with his own fear of death.
He has come to the conclusion, too, that most people in Britain are not very good at dealing with the concepts of mortality and serious illness.
"It is important that you start discussing it," he says. "And if you start discussing it, you're not as scared of it and it opens it up.
"What I've learned from the project is that so many societies deal with it in different ways. We're definitely not top five. We're probably not top 100. We deal with it really badly.
"I think we do, as a society, tread on eggshells around certain subjects because we don't want confrontational conflict or pain or sadness, and I think you can definitely learn that this is not necessarily a pessimistic or sad subject.
"It can be quite empowering for you and the person you're talking to."
Alive: In the Face of Death is at the Walker Gallery until 15 September. The exhibition has been documented by BBC Two's The Culture Show for an episode to be broadcast later in the year and is part of Liverpool's Look/13 photography festival.