Howard Jacobson wins Wodehouse Prize for second time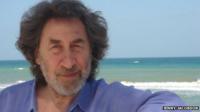 Howard Jacobson's novel Zoo Time has won him the Bollinger Everyman Wodehouse Prize for the second time.
The annual award celebrates books that capture author PG Wodehouse's comic spirit.
Zoo Time tells the story of a writer in torment over his affections for his wife and mother-in-law, and the terminal state of literature.
Jacobson won the first ever Wodehouse prize in 2000 for his novel The Mighty Walzer.
As part of the prize, a Gloucestershire Old Spot pig will be named after the winning title.
"This is the only literary prize that actively seeks out and rewards comedy," said Jacobson. "Other prizes often view it as sort of embarrassing writerly malfunction - which is treacherous, in my view, when you consider the comic origins of the novel and the strong comedic traditions of English writing in particular."
He said winning the prize the first time had been "bliss".
"To win it twice is very heaven. I am only sorry my pig has to be called Zoo Time. It feels a bit tactless. But it could have been worse. It could have been Bring Up The Bodies."
The other books on this year's shortlist were Skios by Michael Frayn, England's Lane by Joseph Connolly, Heartbreak Hotel by Deborah Moggach, and Lightning Rods by Helen DeWitt.
The winner, announced ahead of the Hay Festival, was chosen by Everyman's Library publisher David Campbell, Hay Festival director Peter Florence and broadcaster and author Jim Naughtie.
Previous winners include Terry Pratchett, Ian McEwan, Marina Lewycka, Paul Torday, and DBC Pierre.
The pig joins a line of bizarrely-named pigs, including Snuff, Solar and A Short History of Tractors in Ukrainian.