Obituary: Arnold Peters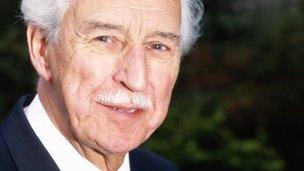 In a career spanning more than 50 years, Arnold Peters was a regular, if unsung performer, in a host of TV programmes.
But the role for which he is best known was probably his most difficult - the portrayal of The Archers' Jack Woolley as his character succumbed to dementia.
After serving in the RAF, Arnold Peters started acting at the Northampton Repertory Theatre, where he learnt his craft in five years of weekly and fortnightly rep.
In 1953, he joined the Archers, playing farm labourer Len Thomas who lodged with Dan and Doris at Brookfield Farm.
While the part was later written out, Peters was soon back in Ambridge in 1968 as the Rev David Latimer, but his character was killed off five years later.
By this time he had built up a solid, if somewhat undistinguished career as a television actor.
During the 1960s and 70s he appeared in a host of TV dramas and sitcoms ranging from On the Buses to The Six Wives of Henry VIII.
One such was the BBC drama Swizzlewick, which reflected the goings on in a local council and which also featured Margot Boyd and Philip Garston-Jones from the Archers.
With his distinguished looks he was often cast as a figure of authority - notably as a police officer or judge.
He also made an appearance on the big screen in Fred Zinnemann's 1966 Oscar winning film of A Man for All Seasons
In 1980, he returned to The Archer's cast, this time to take over the part of Jack Woolley following the death of Phillip Garston-Jones who had previously played the character.
The story of Jack Woolley developing Alzheimer's was particularly difficult for Peters.
Not only had his own brother-in-law died with the disease but the husband of June Spencer, who played his radio wife Peggy, had also died with dementia.
"We have had some poignant scenes,'' he remembered.
"The most hard-hitting for me was when Jack got lost and was found wet and cold sitting on the village green.
"It does not upset you but you think about it.
"On radio, everything that goes on in your mind has to go into your voice - you have got to think it right.''
In 2007, the programme won a Mental Health Media award and was praised by the Alzheimer's Society as a sensitive and accurate portrayal of the devastating impact the condition can have on people's lives.
Sadly, Peters went on to have Alzheimer's disease himself.
In 2011, the Archers team went to his care home in Northamptonshire to record what would be his final Archers scenes.
Members of the team said he was fully aware of who they were and easily dropped back into his role as Jack Woolley.
Arnold Peters was one of the great host of British character actors who, after starting a career in the theatre, successfully made a living in TV and radio.
Unlike many of his contemporaries, he was able to continue performing in a high-profile and challenging role well past the age where most people would have considered retirement.